ELEVATE Your Workforce Pipeline!
Build your skilled employee pipeline through Work-Based Learning Pathways
Apprenticeship, High School Training and Outreach to Diverse Population Pools.
Work-Based Learning provides meaningful experiences in a work setting related to the career interests of learners and needs of employers. Learn how employers, secondary/post-secondary education and community resources can partner to grow opportunities and fill openings for high skill, high wage, high demand positions in Nebraska.
Tuesday, Nov. 14, 2023
8:00 a.m. - 3:30 p.m.
Younes Conference Center North, Kearney, NE
$49 per person for full-day conference attendance, includes lunch on site
Last day to register for the conference or reserve a hotel room is October 13, 2023.
Conference Registration is now closed.

Hosted by ELEVATE Apprenticeship Consortium: Central Community College, Northeast Community College and Southeast Community College
---
---
Thank you to our event sponsors!
November 14, 2023 | Younes Conference Center North, Kearney, Nebraska
| Time | Description |
| --- | --- |
| 8-8:30 a.m. | Registration |
| 8:30-8:45 a.m. | Opening Remarks |
| 8:45-9 a.m. | Welcome Address by Governor Jim Pillen |
| 9-10 a.m. | Keynote Address – Dr. Rebecca Lake |
| 10-10:15 a.m. | Break |
| 10:15-11 a.m. | Employer Panel |
| 11:10-11:55 a.m. | Breakout Session #1 |
| Noon-1 p.m. | Lunch |
| 12:30-1:15 p.m. | Luncheon Presentation by Tony Trapp |
| 1:30-2:15 p.m. | Apprentice Panel |
| 2:30-3:15 p.m. | Breakout Session #2 |
| 3:15-3:30 p.m. | Ask an Expert |
Keynote Address: Time is Now to Grow Registered Apprenticeship Programs in Nebraska
Apprenticeship programs are expanding all across the nation, because they WORK for business and they WORK for apprentices. Dr. Lake will share her expertise on why the recent growth in the apprenticeship area, why you should jump on board and how you can get involved. Learn more about how and why apprenticeship programs WORK and how they can WORK for you!

Luncheon Presentation: Don't Just Talk Partnerships and Pathways…Build Them!
Upper Valley Career Center, Piqua, Ohio has a long-established, clearly structured, work-based learning program which has expanded to include youth (pre) apprenticeships. Students pursue career pathways of interest and are aligned to employers and apprenticeship providers who offer mentoring and support related instruction. This session will explore innovative ideas to provide for recruitment and retention of students, pay, and other traditional barriers, as well as strategies for recruitment of businesses and local support. Learn how UVCC has built pipelines to meet local workforce development needs, including a grow-our-own program to meet industry's workforce shortage as well as effective recruiting of business partners. This well-organized, structured, creative program keeps businesses coming back year after year.
Morning Breakouts
Making Apprenticeships WORK for You!
You are on fence about starting an apprenticeship program at your company or maybe you have decided to develop a program, but what now? Dr. Lake will walk you through how your company can decide if apprenticeship is right for you and how to develop the program. Dr. Lake will discuss various partners you should include when developing your programs as well as ways your company can fund this innovative hiring strategy. Apprenticeships WORK, learn how to make them WORK for you!

How Do I Pay For This?? Funding Sources Available to You!
Training and developing talent can be expensive. Learn more about various funding sources available to employers to assist with offsetting these costs. Nebraska Department of Labor Staff, Kim Neesen and Jami Canham, will share information about Work Opportunity Tax Credit, Worker Training Grant and Workforce Innovation and Opportunity Act. Heather Bloomquist from Southeast Community College will talk about Gap funding. Long story short, there is funding available.

Bridging the Gap: From Education to Business & Industry
Learn how to ELEVATE your workforce pipeline with high school students. High schools everywhere are implementing more work-based learning opportunities for students so make sure your business is ready to capitalize on this great opportunity. You can provide students with alternative work-based learning opportunities and grow your talent pipeline at the same time. Learn how to get started with high school students in the registered youth apprenticeship program. Here's how Career Pathway Institute in Grand Island got started!

Afternoon Breakouts
Building Pathways and Partnerships
This session is a continuation of the Lunch Keynote presentation discussion. We will dig deep into the inner workings and share best practices on ideas to engage business partners and bring them on as a stakeholder for recruitment of your programs. We will discuss how your school can replicate what is being done in Ohio and how you get started. This session will show how Igniting student interest and engagement with a real look inside their chosen career path is a win/win for students and business partners.
Grow Your Skilled Workforce through Community Partnerships!
A panel of experienced professionals will each share their organization's role in Nebraska communities, and how their services benefit the populations they serve as well as employers looking to enhance their workforce. Discover how to connect with individuals who've overcome challenges and circumstances that have given them the grit and drive to be a tremendous asset to your workplace. Additionally, learn how to partner collaboratively with community-based organizations to increase your workforce pipeline.

Panelists include:
Cassy Kvasnicka, Business Account Manager, Nebraska VR
Felipe Longoria-Shinn, CEO, Central Plains Center for Services
Katie Patrick, Executive Director, Catholic Social Services
Attracting & Retaining Talent: Resources Available from Nebraska Department of Labor
Join Elliot Cain and Colleen Jensen from Nebraska Department of Labor as they share resources provided by the department to recruit and retain talent. Elliot the NDOL Program Coordinator for Registered Apprenticeships will educate attendees on the basics of the registered apprenticeship system and how programs are developed.

Welcome by Governor Jim Pillen
Jim Pillen was sworn in as Nebraska's 41st Governor on Jan. 5, 2023.
He enters office with the goal of protecting, training and keeping our kids in Nebraska, cutting taxes, growing agriculture, and defending our commonsense, conservative values.
Governor Pillen grew up on a farm in Platte County, Nebraska and raised pigs with his father, Dale. He graduated from Lakeview High School. He earned a Bachelor's Degree in Animal Science from UNL, and married Suzanne Shreve. Governor Pillen then earned a doctor of veterinary medicine from Kansas State. In 1983, he returned to Nebraska and opened a small animal practice and swine consulting practice.
Governor Pillen and his father, Dale, partnered together, raising 60 sows and 1,200 market hogs on a dirt lot on their home farm. In 1993, Jim started Pillen Family Farms. In 2003, he added DNA Genetics. In 2010, his two oldest children, Sarah and Brock, joined the business.
Pillen Family Farms and DNA Genetics are now a multigenerational family-run business, composed of over 1,100 team members. The family business operates by some basic core beliefs—do what is right, do the best you can, and treat others the way you want to be treated.
Jim and wife, Suzanne, have four children, Sarah, Brock, Polly, and Izic, and seven grandchildren, William, Halle, Eloise, Henry, Harrison, Ava, and Thomas.
---

Morning Keynote Speaker by Dr. Rebecca Lake
Rebecca S. Lake, Ed.D. is retired and has now started her own company, Rebecca Lake Consulting. She is an ApprenticeshipUSA Leader and an invited speaker at workforce and apprenticeship conferences across the county. Rebecca is particularly well-known for starting the 2015 national movement for community colleges to be a Registered Apprenticeship sponsor while at Harper College. She has hosted apprentice conferences and published articles on various facets surrounding apprenticeships. Throughout her career, she has successfully written and managed many large community college grants. Previously, Rebecca designed, created and taught in the Community College Leadership doctoral program at National Louis University serving as program director for 10 years. She spent the first half of her professional life involved in health planning, hospital and health care administration and nursing while the second half in community college education and administration. Rebecca has held community college positions of faculty, assistant dean, career and technology dean, and academic vice-president. In 2023, Rebecca Lake Consulting LLC was appointed by the U.S. Department of Labor to a two-year term as Apprenticeship Ambassador.
---

Luncheon Presentation by Special Guest Tony Trapp
After 15 years as an educator in the HVAC program, Tony Trapp was named the Work-Based Learning/Apprenticeship Coordinator for Upper Valley Career Center in Piqua, OH, a position he has held for the past 11 years. As a result of his dynamic leadership, the program has grown exponentially and now serves nearly 200 students each year.
Tony has built strong partnerships with business and industry. He hosts an outstanding and active advisory committee, composed of employers from a six-county area. As Work-Based Learning/Apprenticeship coordinator, Tony works with these and other employers to hire students who have met stringent criteria during their junior year in a career and technical program. He oversees the students in their school-to-work placements, allowing them to "earn while they learn". In addition, he works continually with the industry mentors, lab instructors, legislators, parents and students to ensure student-employer opportunities and success.
Tony's efforts to establish and increase state recognized pre-apprenticeship programs has led to opportunities to present at numerous national, state, and regional meetings. He is in demand for his knowledge and expertise. In 2017, he was one of eight national programs selected by the USDOE Office of Career Technical Education to highlight best practices in connecting CTE and apprenticeship opportunities.
Tony was awarded the 2022 Association for Career Technical Education Seamless Work-Based Learning Professional of the Year.
Title Sponsor
$4,000
Eight event registrations
Logo on main stage
Special mention from podium during welcome and lunch
Opportunity to introduce a speaker or moderate a breakout session
Company included in sponsor announcements and signage
---
Mentor Level
$3,000
Six event registrations
Logo on main stage
Company included in sponsor announcements and signage
---
Partner Level
$1,000
Four event registrations
Company included in sponsor announcements and signage
---
Apprentice Level
$500
Two event registrations
Company included in sponsor announcements and signage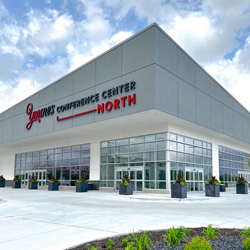 A block of rooms is reserved at the Younes Center North in Kearney for the conference. Attendees are responsible for reservations and payment.
To reserve a room under this block of rooms, call the hotel front desk at: 308-238-7000
The group name for this block of rooms is: Central Community College Apprenticeship Summit
The group rate is $159.95 per night.
A credit card is required to guarantee individual reservations.
Check in time is 4:00 p.m. and check-out time is noon. (Rooms are made available for check-in as they become available, but cannot be guaranteed prior to 4:00 p.m.)
Younes Conference Center North is located at 707 W. Talmadge St., Kearney, NE 68845.
Parking and Driving Directions (scroll down for driving directions)