Radiologic Technology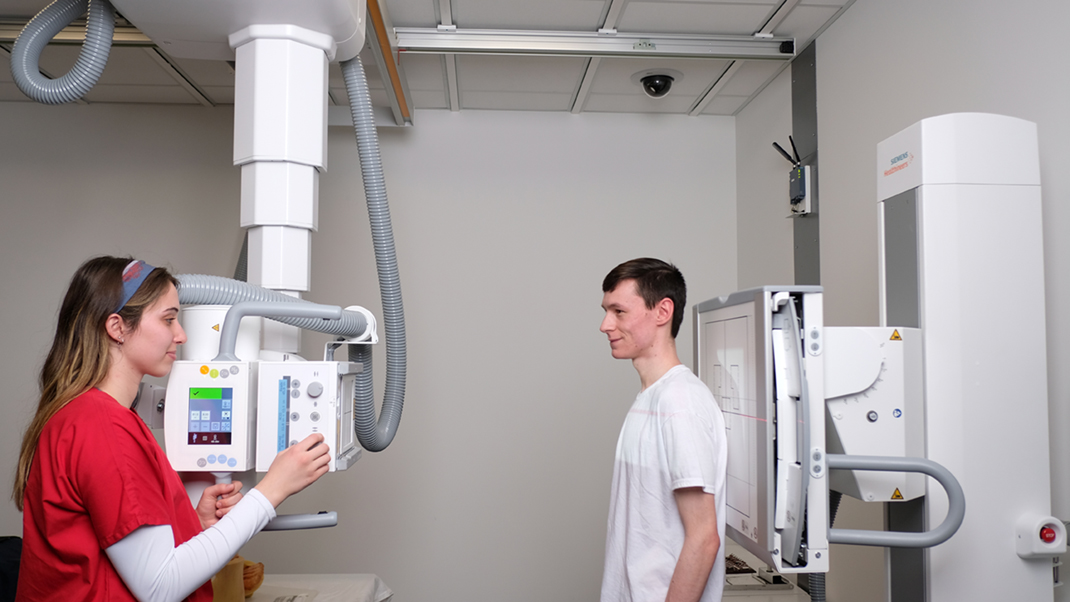 Program Description
Focus on the creative career opportunities in the scientific field of radiology. Our Radiologic Technology program allows you to combine basic scientific principles with the creativity of art by taking radiographic images to aid with diagnosis of illness and injuries.
You can choose to take our program via the Lincoln track or the Distance track. If you take the Lincoln track, you will perform your clinical in Lincoln with courses offered in person; if you take the Distance track you will perform your clinical at a pre-approved hospital outside Lincoln and take your courses online. Once you complete the program you will have the skills necessary to be successful and prepared to take the American Registry of Radiologic Technologist Exam and apply for state licensure where you choose to work.
Awards Offered: A.A.S. Degree
Locations: Lincoln, Online
Formats: In-Person / Online
Start: Fall
Schedule: Full-Time
Estimated Total Cost
$10,289.50 Associate of Applied Science
START HERE: Please follow the steps on the Get Started Checklist (PDF) to complete the program application process.
Admissions Resources:

You're a Good Fit
As the baby-boom population grows older, there may be an increase in medical conditions which require imaging as a tool for making diagnoses. Radiologic technologists will be needed to take these images. You will be a successful radiologic technologist if you:
are interested in a hands-on career in the medical field
enjoy working with people from all walks of life
have good interpersonal and communication skills
like to see immediate results of your work
like science, anatomy and math
want an occupation with advancement opportunities

Careers
As a radiologic technologist, you will work with patients performing radiology exams including MRIs, X-rays, and CAT scans. According to the U.S. Bureau of Labor Statistics, employment for radiologic technologists is projected to grow 12 percent by 2026. Recent SCC graduates report an average annual starting salary of $46,384. You can be a radiologic technologist in one of these settings:
Hospitals
Clinics
Outpatient Imaging Centers
Doctor's Offices
Accreditation
The Southeast Community College Radiologic Technology Program is accredited by the Joint Review Committee on Education in Radiologic Technology (JRCERT).
Accreditation Status: Fully Accredited
Length of Accreditation Award: 8-years
Accreditation Awarded: 4/01/2015
Next Scheduled Review: 4/01/2023
Program effectiveness data may be obtained by visiting the JRCERT Website
Contact information for the JRCERT:
JRCERT
20 North Wacker Drive, Suite 2850
Chicago IL 60606-3182
Phone: 312-704-5300
Email: mail@jrcert.org

Program Information
Program Clinical Sites


The program offers a Lincoln option and an Online/Distance Option. The Lincoln option offers clinical at the 3 Lincoln hospitals with radiology courses offered face-to-face in a classroom on the Lincoln campus. The Distance option offers clinical at a pre-approved hospital outside of Lincoln with radiology courses online. The program has several established clinical sites throughout the state of Nebraska and in various other states. To see if the program can be offered in your area, please contact the program director for approved clinical sites near your location.

Program Goals & Learning Outcomes

State Licensure or Certification Requirements
States where licensure or certification requirements are met by this program's curriculum - Nebraska, Kansas, Colorado, Indiana, Iowa, Texas, Hawaii.
States where licensure or certification requirements are not met by this program's curriculum – California.
No determination has been made for any other State as to whether the program's curriculum does or does not meet licensure or certification requirements. However, if a student from a State, not listed above, is interested in this program, State licensure will be investigated.
State Authorization Reciprocity Agreement Institution