Polysomnographic Technology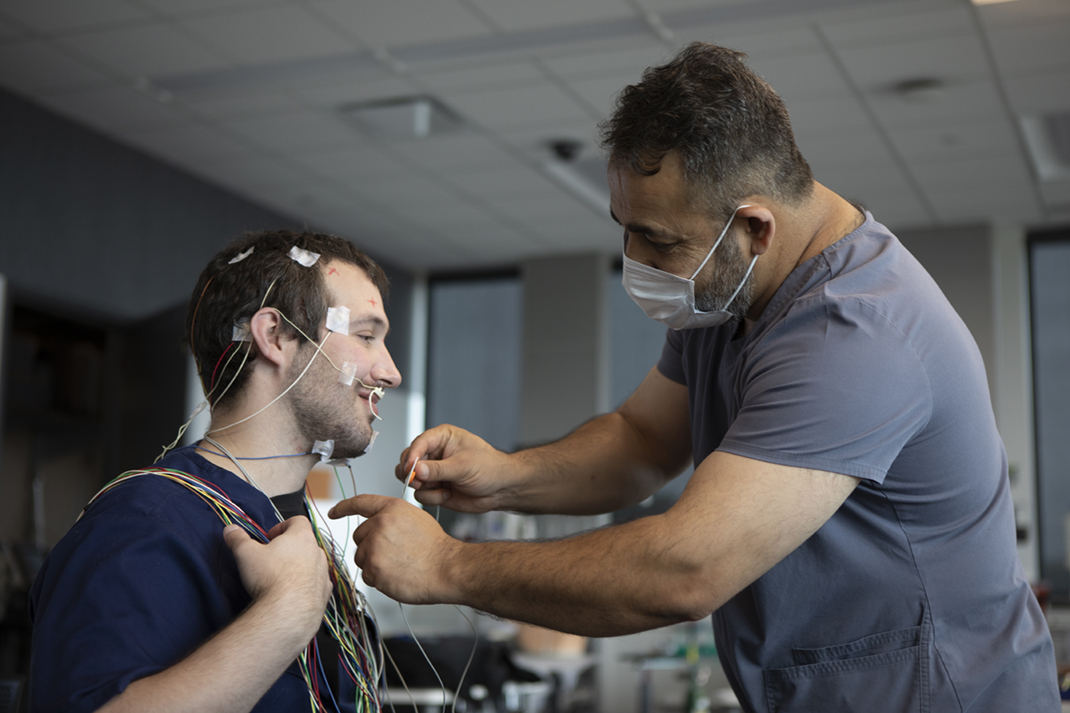 Program Description
Open your eyes to a career with a bright future in the polysomnographic technology field. Our Polysomnographic Technology program will make you an expert at the process of gathering and interpreting data to help with the diagnosis and treatment of sleep disorders. In order to be admitted into the program, you must have an associate degree in a health-related program of study or a copy of a current Respiratory Technology or Registered Nurse license.
Our part-time program consists of 6 credit hours per term and is offered online, with 135 hours of clinical rotations completed at an approved sleep disorders center. You will complete a comprehensive program in patient assessment, equipment calibration, data acquisition, diagnostic evaluation, therapeutic modalities and follow-up care. Once you graduate from the program, you will be eligible to take the Registered Polysomnographic Technologist exam offered by the Board of Registered Polysomnographic Technologists in order to earn the RPSGT credential.
Awards Offered: Certificate
Locations: Online
Formats: Online
Start: Fall
Schedule: Part-time
Estimated Total Cost
$1,976 Certificate
START HERE: Please follow the steps on the Getting Started Checklist (PDF) to complete the program application process.
Admissions Resources:

You're a Good Fit
Polysomnographic technologists are allied health professionals who work under the supervision of a licensed sleep physician to assist with the education, evaluation, treatment, and chronic care management of patients with sleep disorders. You will be a successful polysomnographic technologist if you:
pay attention to detail and have a desire for neatness/order
have a calm and pleasant demeanor with conversational skills that are comforting to others
are able to develop manual dexterity
are able to add, subtract, multiply and divide to calculate indices and percentages
have the ability to work a variety of shifts
should be a person of character, honesty and integrity
have the ability to work as a part of a team
are an abstract thinker in order to understand concepts
desire to help others while maintaining respect and dignity
are comfortable working with and learning new technology

Careers
There are more than 7,000 registered polysomnographic technologists worldwide and that number is expected to grow. You have a variety of career options because of the increase in available treatment options, diagnostic tools and areas of research. Recent SCC graduates report an average starting salary of $47,216. Career options include:
Polysomnographic Technologist
Sleep Technologist
Sleep Technician
Sleep Trainee

State Licensure or Certification Requirements
This program's curriculum is acceptable in all states but one. Some states do not require licensing for Sleep Technologists, but may have exemptions for Sleep Technologists to practice under the Respiratory Care act for their state. Those states which do have licensing requirements for Sleep Technologists primarily require the RPSGT credential, or a combination of the RPSGT credential and proof of graduating from a CAAHEP program. SCC's program is a CAAHEP program.
State where the curriculum is not accepted – New York
Please see the chart regarding each state's acceptance of this program's curriculum and licensure requirements.
2018-2022 Positive Placement Average
40
35
70%
87.5%
90.48%
Total
Graduates
Total Positive
Placement
Threshold
Percentage Positive
Placement
3-Year
Average
| | | | | | |
| --- | --- | --- | --- | --- | --- |
| Graduation Year | 2022 | 2021 | 2020 | 2019 | 2018 |
| Total Graduates | 8 | 9 | 4 | 0 | 19 |
| # Employed | 8 | 8 | 3 | 0 | 15 |
| # Continuing Education or Active Military, but NOT Employed | 0 | 0 | 0 | 0 | 1 |
| Postitive Placement | 8 | 8 | 3 | 0 | 16 |
| Placement Percentage | 100% | 88.89% | 75% | 0% | 84.21% |
State Authorization Reciprocity Agreement Institution