Professional Truck Driver Training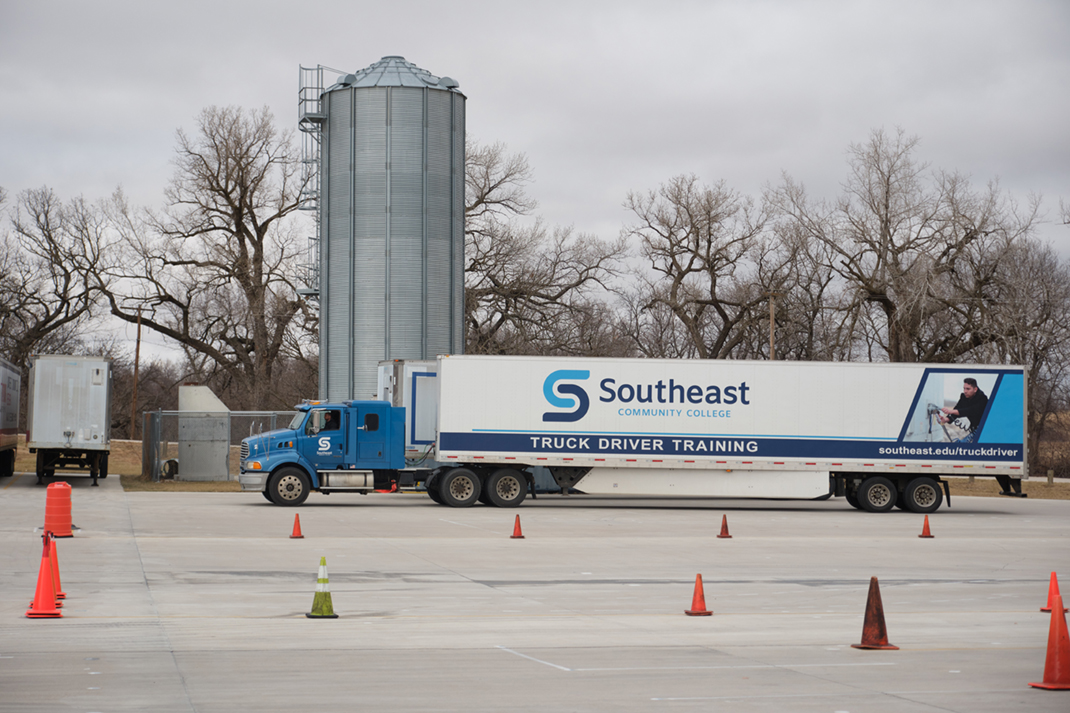 Program Description
If you enjoy being on the road, why not get paid for it? Our intensive Professional Truck Driver Training program prepares you to operate a tractor-trailer semi on city streets, rural roads, and two-lane and interstate highways. You will obtain a Class A Commercial Driver's License at the completion of the program.
We offer classes every 5 weeks in the Fall and Spring Semesters. Classes will be offered In Person as well as Online to accommodate working adults.
Fall 5-week sections:
Aug. 21, 2023 - Sept. 22, 2023
Sept. 27, 2023 - Nov. 2, 2023
Nov. 8, 2023 - Dec. 15, 2023
Spring 5-week sections:
January 24, 2024 – February 22, 2024
February 28, 2024 – April 4, 2024
April 10, 2024 – May 9, 2024
Our hands-on program has a fleet of 13 truck tractors ranging in age from 1991 to 2021 with 9 speed, 10 speed, super 10, 13 speed and automatic transmissions. Your training will be on Peterbilt, Kenworth, Freightliner, Volvo Mack and Sterling tractors with Detroit Diesel, Caterpillar, Volvo, Mack, PACCAR, and Mercedes engines. Our training includes instruction on accident procedures, daily driver's log, trip planning, hazard perception, speed management, vehicle inspection, extreme driving conditions, defensive driving, and skills development in coupling and uncoupling, backing, shifting, and city and highway driving.
Awards Offered: Certificate
Locations: Milford
Formats: In-Person / Online
Start: Fall / Spring / Summer
Schedule: Full-Time
Estimated Total Cost
$1,217 Certificate
Want to learn more about SCC? Come see how SCC will help you achieve Your Path to Possible!

Schedule a campus visit!
Need help exploring career opportunities or navigating the admissions process?

Schedule an appointment

with an Admissions Counselor.
Ready to apply? Complete an

Application for Admission.
Submit ACT, SAT, Next Generation Accuplacer, or Accuplacer test scores (reading and math) or official college transcripts showing completion of post-secondary coursework in English and math to the Admissions Office at any SCC location.
The following requirements must be completed prior to registering for the Behind the Wheel Course:
Obtain a Class A Learners Permit by taking three written tests at the DMV.
Complete a Department of Transportation (DOT)

Physical Examination
Submit a SAMHSA certified drug test no sooner than 30 days before the Behind-the-Wheel course from either

Company Care

or

Concentra
Submit a copy of your driving record from the

Department of Motor Vehicles

Program Details
You can start our intensive Professional Truck Driver Training program in the Fall, Spring or Summer terms. We offer a face-to-face or a hybrid option which features online lectures and labs with in-person driving. To earn your certificate, you must complete two courses: Professional Truck Driver Training-Lecture Course and the Professional Truck Driver Training-Behind the Wheel Driving Course. The program option is:
10-week program: Lecture (5 weeks) + Behind the Wheel Driving Course (5 weeks)
At the end of the program, you will have completed 60 hours of lecture and 105 hours behind-the-wheel training for a total of 165 hours. You will also log between 2,000 and 2,500 miles.
TRUK-1114 Professional Truck Driver Training Classroom
This course satisfies the Federal Motor Carrier Safety Administration (FMCSA) Entry Level Driver Training (ELDT) and HAZMAT Theory requirements.
After successful completion of TRUK-1114, Skills Practice and Testing may be completed through SCC course TRUK-1124 Professional Truck Driver Training Driving Lab or through another 3rd Party Trainer/Tester.

Seats for TRUK-1124 are limited and fill on a first come – first served basis.
The lecture options are:
Face-to-Face: Monday-Thursday, 8 a.m.-noon
Online: Dates correspond with those shown above. Homework, quizzes and tests are due regularly.
TRUK-1124 Professional Truck Driver Training - Behind-the-Wheel
This course offers intensive hands on training where students can practice their skills. Testing will be completed through this SCC course to receive your CDL (SCC instructors are 3rd party examiners for the State of Nebraska and students in this course will test with them) ***This course is optional. As an alternative, students can go directly to a 3rd Party Trainer/Tester to receive their CDL, if they choose.
Students must successfully complete TRUK-1114 in order to continue on into TRUK-1124.

Seats for TRUK-1125 are limited and fill on a first come-first served basis.
OR
Students can go directly to a 3rd Party Trainer/Tester to receive their CDL
The behind-the-wheel option is:
5-week: Monday-Thursday, 8 a.m.-4 p.m.

Commercial Learners Permit and License
You will need a Nebraska Class A Commercial Learners Permit before you register for the Behind the Wheel Course. The permit costs $14.50 and can be obtained at any Nebraska DMV County location. You will need to pass these three written tests to get your permit:
General Knowledge
Combination Vehicle
Air Brakes
Our instructors are third party examiners for the State of Nebraska and will perform the following tests for your Commercial Driver's License on campus using SCC equipment:
Vehicle Inspection Test
Basic Control Skills Test
Road Test
The DMV will charge you $59.50 for your commercial license.
Gap Tuition Assistance and Scholarships
Financial Aid is not available because of the length of this program. If you need financial assistance, Gap Tuition Assistance may be available. Gap funding provides need-based financial support for tuition and other eligible costs for short-term, non-credit training opportunities focused on employment. For more information, email Heather Bloomquist or call her at 402-323-3394.
The Nebraska Trucking Association offers $1500 scholarships for students interested in a career in CDL Driving. This scholarship provides funds for new students to help with the cost of tuition, books and supplies. Submit your online application, and include a 100-200 word essay and resume. For more information, visit the Nebraska Trucking Association website.
You're a Good Fit
You will be successful in our Professional Truck Driver Training program if you:
are reliable and can stick to a schedule
can take a job from start to finish
have excellent communication and people skills
have basic mechanical skills and understand how to perform minor repairs
are able to manage stressful situations
follow laws and regulations
are alert and aware of your surroundings
maintain a high level of physical fitness
have an excellent driving record

Careers
There is a tremendous demand for skilled drivers all across the United States. Our Professional Truck Driver Training program prepares you for both interstate and intrastate commerce. Recent SCC graduates report an average starting annual salary of $44,720. Career options in the professional truck driving industry include:
Owner/Operator
Local Truck Driver
Regional Truck Driver
Over-the-Road Truck Driver