Diesel-Ag Equipment Service Technology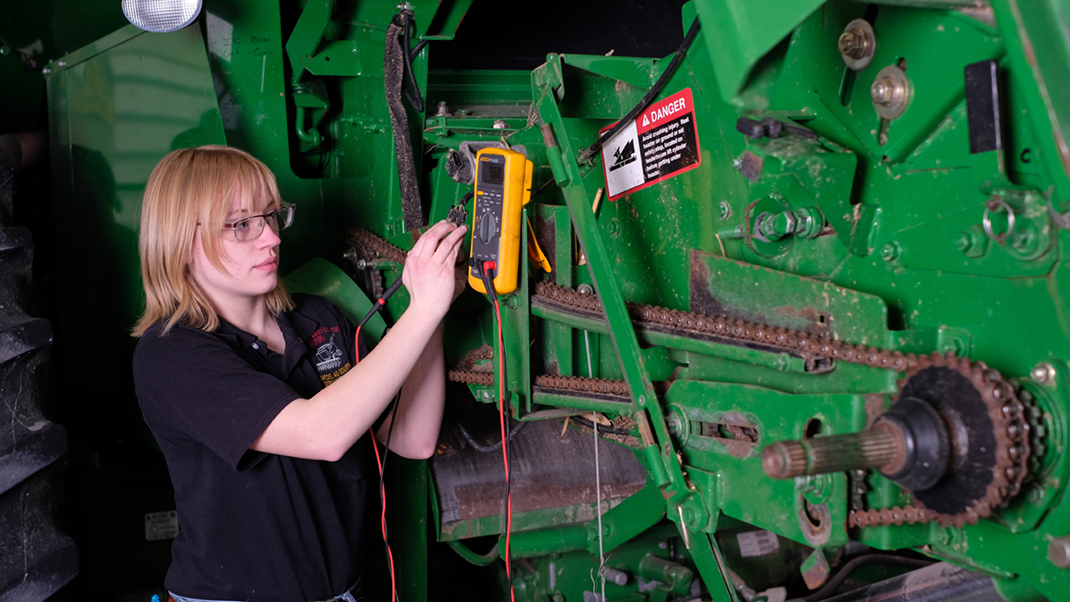 Program Description
If you are looking for a challenging and rewarding career opportunities, our Diesel-Ag Equipment Service Tech program is perfect for you. We will give you the education and real-life training you need for a career as an ag equipment diesel technician. You can choose to specialize in electrical/electronic systems, precision farming, HVAC, harvesting, planting, hydraulics, power trains or engine/fuel systems. Many people choose to be masters of all agricultural equipment systems to personally handle any customer concern.
The Diesel-Ag Equipment Service Tech program utilizes industry-sponsored equipment, tools and resources that are typical of modern dealership service requirements. You will also have the opportunity to hone your skills in our new Crete Carrier Diesel Technology & Welding Center.
The program is fully accredited. Students entering this program may qualify for the Scott Pathway Scholarship.
Awards Offered: A.A.S. Degree
Locations: Milford
Formats: In-Person
Start: Fall / Spring
Schedule: Full-Time
Estimated Total Cost
$19,455 Associate of Applied Science
You can start the Diesel-Ag Equipment Service Tech program in the Fall or Spring terms. Follow these steps to finish your application:
Want to learn more about SCC? Come see how SCC will help you achieve Your Path to Possible!

Schedule a campus visit!
Need help exploring career opportunities or navigating the admissions process?

Schedule an appointment

with an Admissions Counselor.
Ready to apply?

Complete an Application for Admission.
Submit ACT, SAT, Next Generation Accuplacer, or Accuplacer test scores (reading and math) or official college transcripts showing completion of post-secondary coursework in English and math to the Admissions Office at any SCC location.
In addition, you are required to provide or purchase a basic tool set during the first semester. Tools may be purchased at the SCC Campus Store, the SCC Milford Parts Store or off-campus. You are required to wear safety-toe boots or shoes during all lab activities and while participating in the Cooperative Education/Internship program.
You're a Good Fit
You will be successful in our Diesel-Ag Equipment Service Tech program if you:
have high mechanical ability and basic math skills
have good communication skills (must be able to read, understand and follow written directions; must be able to read manuals and computer-generated instructions; and must be able to express oneself clearly verbally)
are computer proficient and detail-oriented
are a "mind-on" and a "hands-on" person
have the ability to work on a team
have high spatial relations ability (can visualize three dimensionally)
are a sequential and analytical thinker
can multi-task and stay on task until a job is completed

Careers
Careers in the agricultural equipment service industry offers a variety of challenging and rewarding opportunities for you. There are tremendous employment opportunities available with dealerships, independent shops, farming operations and many more. Recent SCC graduates report an average starting annual salary of $46,384. Diesel-Ag Equipment Service Tech career options include:
Ag Equipment Technician
Diesel Technician
Mechanic
Service Technician
Supervisor