Automotive Technology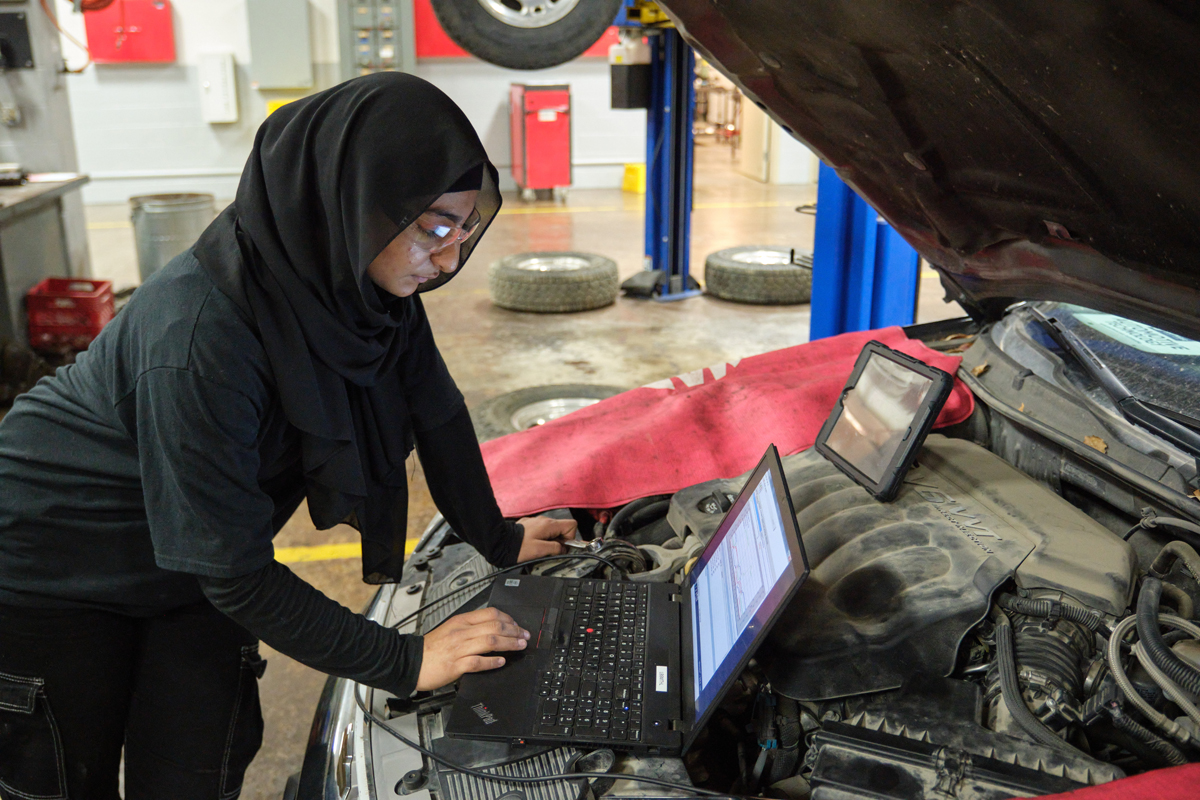 Program Description
Skilled auto technicians are in demand and we want to prepare you for a rewarding career in the high-tech auto industry. Our Automotive Technology program provides intensive, hands-on training using state-of-the-art equipment in the areas of engine repair, automatic transmission and transaxle, manual drive train and axles, suspension and steering, brakes, electrical/electronic systems, heating and air conditioning, and engine performance.
Select Automotive Technology students participate on one of SCC's Engine Build Competition Teams. The teams race against the clock at various events throughout the year to see who can get the engine started first. Not only is the Engine Build Competition spectator-friendly, it promotes teamwork and camaraderie.
Students entering this program may qualify for the Scott Pathway Scholarship.
Awards Offered: A.A.S. Degree / Certificate / Diploma
Locations: Lincoln, Milford
Formats: In-Person
Start: Fall / Spring
Schedule: Full-Time
Estimated Total Cost
$14,462 Associate of Applied Science
$9,706 Diploma
$1,404 Certificate
You can start the Automotive Technology program in the Fall or Spring terms. Follow these steps to finish your application:
Want to learn more about SCC? Come see how SCC will help you achieve Your Path to Possible!

Schedule a campus visit!
Need help exploring career opportunities or navigating the admissions process?

Schedule an appointment

with an Admissions Counselor.
Ready to apply?

Complete an Application for Admission.
Submit ACT, SAT, Next Generation Accuplacer, or Accuplacer test scores (reading and math) or official college transcripts showing completion of post-secondary coursework in English and math to the Admissions Office at any SCC location.
You're a Good Fit
You will be successful in our Automotive Technology program if you:
have high mechanical ability and basic math skills
have good communication skills (must be able to read, understand and follow written directions; must be able to read manuals and computer-generated instructions; and must be able to express oneself clearly verbally)
are computer proficient and detail-oriented
are a "mind-on" and a "hands-on" person
have the ability to work on a team
are creative and artistic
have high spatial relations ability (can visualize three dimensionally)
are a sequential and analytical thinker
can multi-task and stay on task until a job is completed

Careers
We prepare you for employment as high-quality entry-level technicians in the automotive repair field. Because many skilled technicians are expected to retire, now is a great time to start your career in the automotive technology industry. Duties in the field include researching service information using manuals or computer-based programs and using an extensive array of hand tools and diagnostic equipment. Recent SCC graduates report an average starting annual salary of $34,320. Career options in the automotive technology industry include:
Automotive Technician
Certified Technician
Customer Service Advisor
Lube/Oil/Tire/Maintenance Technician
Mechanic
Parts Distribution or Parts Sales
Service Advisor or Service Technician
Shop Assistant
Suggested Course Sequence
This Suggested Course Sequence is meant to give you an idea of the courses you will need to take to graduate. Schedule an appointment with your advisor to create your personalized academic plan.
COURSE #

COURSE TITLE

SEMESTER CREDIT HOURS

Semester 1

AUTT1102

Auto Shop Repairs/Basic Maintenance

6

AUTT1126

Automotive Electrical I

6

GEN ED

GELO#3 or #6 (BSAD1010 or PHYS1150)

3

WELD1190 or 1176

O/A And Gmaw Welding

1

Semester Total
16
Semester 2

AUTT1214

Steering & Suspension & Brakes

6

AUTT1216

Automotive Electrical II & HVAC

6

GEN ED

GELO#3 or #6 (BSAD1010 or PHYS1150)

4

Semester Total
16
Semester 3

AUTT2135

Advanced Control Systems

4

AUTT2103

Drive Trains

3.5

AUTT2112

Automatic Transmission/Transaxle

5.5

GEN ED

GELO #1 or #2 (SPCH1090 or ENGL1010)

3

Semester Total
16
Semester 4

AUTT2201

Engines Repair

5.5

AUTT2208

Advanced Engine Performance

5.5

GEN ED 1

GELO#1 or #2 (SPCH1090 or ENGL1010)

3

GEN ED 2

GELO #4 or #5 Student Choice

3

Semester Total
17

Program Total
65.0