Course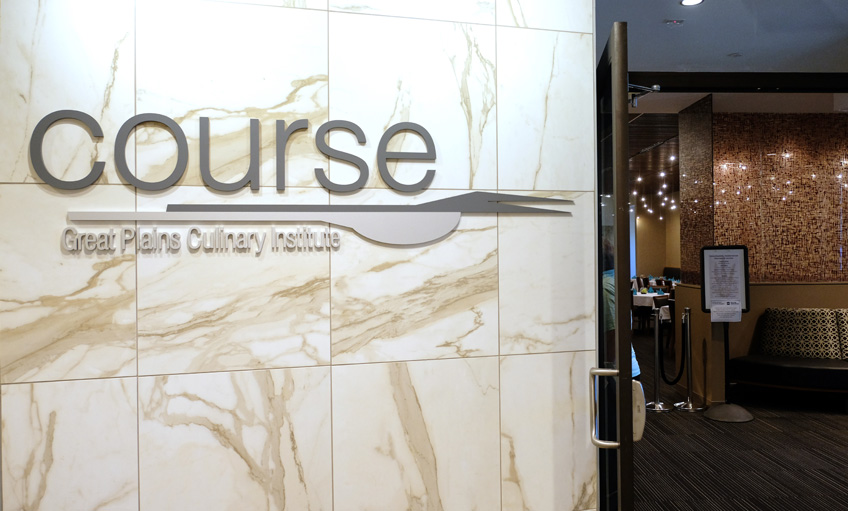 Course at the Great Plains Culinary Institute, is a student run restaurant. Each semester we feature seasonal fresh items prepared by student chefs, under the supervision of Executive Chef Jade Baber. We are available for dine-in or carry-out.
The Great Plains Culinary Institute at SCC is an accredited program by the American Culinary Federation Education Foundation including ACF Certified Chef Instructors. SCC unveiled the $4.2 million expansion in Spring 2018. State-of-the-art learning spaces and a full-service student-run restaurant await students who want to take their passion for food and create a work of art.
Fall 2023
Meal Dates/Times
Date
Time
Meal Type
Seating
Beginning Sept. 26
Mon.-Thur.

11 a.m.-2 p.m.

Lunch

Walk-in

Nov. 1-6

Closed (Install of new POS)

Nov. 22-26

Closed

Dec. 6

6 p.m.

Buffet

SOLD OUT

Dec. 7

Last Day Course will be open for the semester
Fall 2023 Lunch Menu
Shared Plates
Poutine 8

house-cut russet | marchand de vin | bacon marmalade cheese curd | green onion
Smoked Beet Hummus 7 V
hazelnut gremolata | extra virgin olive oil | za'atar
vegetable crudité | grilled pita
---
Sandwiches
Served with choice of side. Gluten-free bun available.
Great Plains Burger 11*
bacon marmalade | mushroom duxelle | onion straw | pepper jack | aioli | greens | house-made sesame bun
Fried Chicken Thigh 11

miso slaw | maple-ginger glaze | spicy hoisin aioli
house-made sesame bun
Croque Madame 10*
smoked ham | herbed dijon | gruyere | mornay sauce
soft fried egg | toasted sourdough
Falafel 10 V
tahini yogurt sauce | cucumber tabbouleh | romaine
smoked beet hummus | feta | grilled pita
---
Sides
Steak Fries 4 V GF
house-cut russet | parmesan peppercorn ranch
Curried Potato Salad 4 GF
red curry mayo | onion | peanut | cilantro
Seasonal Vegetable 4
ask your server for our current offering
House Salad 4 V GF
greens | carrot | tomato | cucumber | sunflower seed
Soup du Jour 4
---
Mains
Chicken Piccata 13 GF
pan-fried chicken breast | seared parmesan polenta cake | grilled broccolini | lemon-caper butter sauce | micro radish
Drunken Noodles 11 V *Sub grilled chicken breast +3*
fried tofu | carrot | bell pepper | onion | zucchini | mushroom black bean hoisin sauce | rice noodle | sesame | cashew
Great Grains Bowl 11 V *Add grilled chicken breast +4*
grilled zucchini | herbed freekeh | marinated tomato | chickpea cucumber tabbouleh | feta | candied hazelnut | onion straw green goddess dressing
Southwest Steak Salad 13 GF*
grilled carne asada | roasted corn | charred tomato | cotija ancho carrot puree | tortilla strips | honey-chipotle vinaigrette mixed greens | cilantro
---
Desserts
Peach Bourbon Creme Brulee 6 V GF

rich vanilla custard | peach bourbon compote | crème chantilly candied pecan
Mexican Chocolate Cheesecake 6 V

oreo crust | candied pecan | mango coulis | ancho dust
---
V-vegetarian GF-gluten-free
Gratuity is included in all pricing.
We will happily accommodate any dietary needs or restrictions.
*Consuming raw or undercooked meat, poultry, seafood, or eggs may increase your risk for foodborne illness.
---
Beverages
Iced Tea 1
Rishi Hot Tea 1
(Earl Grey | Yuzu Peach Green | Black Limón | Peppermint | Turmeric Ginger)
House Roasted Drip Coffee, reg or decaf 1
House Roasted French Press Coffee 3
---
Local Partners
Absolutely Fresh Seafood - Omaha, NE
Course Ground Coffee - Lincoln, NE
Sweet Minou Chocolate - Lincoln, NE
TD Niche Pork - Elk Creek, NE
---
Holiday Intermission Buffet
December 6, 2023
6 p.m.
Appetizer: Spinach Artichoke Profiterole and Hawaiian Fruit & Vegetable Kabobs
Salads: Hearty Green Citrus Salad and Warm Zucchini, Red Pepper and Chickpea Salad
Bread: Fresh Baked Ciabatta with Basil Butter
Vegetables: Cauliflower Au Gratin and Grilled Eggplant with Roasted Red Pepper & Olive Salad
Starches: Mushroom Barley Pilaf and Mediterranean Couscous Salad
Entrées: Grilled Salmon Chimichurri and Tex-Mex Black Bean Burger with Mango Lime Salsa
Desserts: Vanilla Bean Ice Cream Parfait and Carrot Cake
SOLD OUT.
Course restaurant offers a unique venue for private celebrations such as birthday gatherings, retirement celebrations, rehearsal dinners and even fundraising events. Our space accommodates up to 65 guests for seated dinners and up to 75 for cocktail hour and open house-style gatherings.
Event requirements: $300 non-refundable deposit as well as a $500 minimum for all events.
Please contact us at course@southeast.edu for more information regarding menus, availability and pricing.