Orthopaedic , Surgical Technology
Surgical Technology Students Attend Orthopaedic Expo
June 20, 2023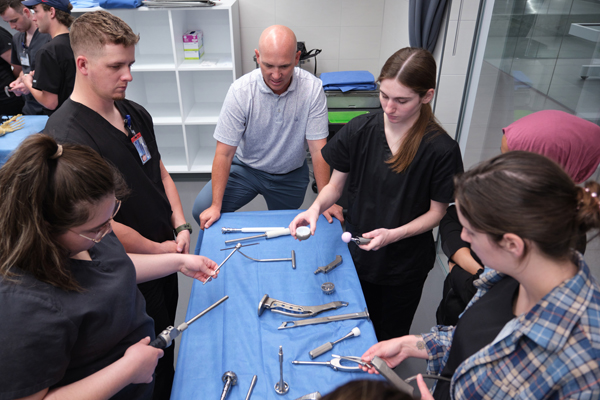 Students in the Southeast Community College Surgical Technology program had a hands-on learning opportunity to work with orthopedic devices on Thursday, June 8. Representatives from DePuy Synthes, the orthopaedics division of Johnson & Johnson, demonstrated the latest innovations in knee and hip replacement.
"The patient is always first, and we view ourselves as an important part of the surgical team," said Seth Brown, senior sales representative from DePuy Synthes. "We prepare the operating room for a successful surgery 20-30 minutes before the surgeon walks in. From my perspective, providing a hands-on experience for these students is priceless."
Elliot Wagner graduated from the SCC Surgical Technology program in 2018 and worked in the OR for four years. He joined the College as an instructor at the start of the school year in 2022, bringing with him surgery room experience in orthopedics; ear, nose and throat; and vascular procedures. His recent experience offers a different perspective for his students
"Our students are getting their hands dirty in their clinicals, but these type of classroom experiences allow them to see the procedural sequence before they are in a high-pressure situation," Wagner explained. "There is a lot of detail involved with surgery, and learning all aspects of the process is important."
Another benefit for the students is the chance to see all the career options there are in the surgical field. Jackson Heitz is from York, Nebraska, and is doing his clinicals at Bryan West. He was interested in the medical field in high school, but as he got closer to college, he didn't necessarily want to become a doctor.
"When I graduate, I see myself as a surgical tech in Lincoln or Omaha," Heitz said. "Right now, I have been learning so much in my clinical. I think the best way to learn is to be put in a situation where you can ask questions and learn on the spot. But who knows, I may want to be a surgical representative from a company down the road. There are a lot of opportunities for career growth in this field."
The SCC Surgical Technology program has trained surgical technologists for nearly 50 years. The program takes five semesters to complete, and students are awarded an Associate of Applied Science degree. Classes are taught on the Lincoln Campus or online. Learn more at: https://www.southeast.edu/surgicaltech/
Jennifer Snyder
Communications Specialist
402-323-3393
jsnyder@southeast.edu