Student and Academic Support Center
April 28, 2023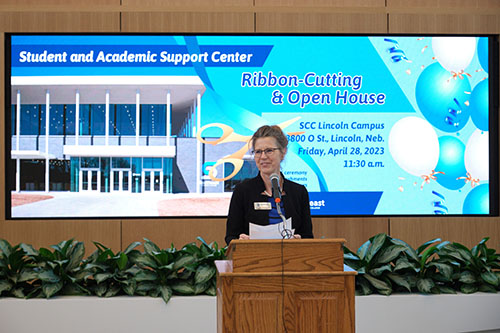 Exactly two years to the day since ground was broken on the $30 million Student and Academic Support Center addition and renovation at Southeast Community College, the space was officially dedicated.
A ribbon-cutting ceremony was held Friday, April 28, on the Lincoln Campus to celebrate modern, expanded spaces to improve access for students in vital academic support services. Bev Cummins, vice president for program development and executive director of the Lincoln Campus, said the new and remodeled spaces will provide students with a positive experience as they navigate their way through SCC.
"This project demonstrates our continued progress in addressing our space needs, from improving fire and life safety, evacuation and egress, to confidential spaces and accommodating the growth we've been experiencing on the campus," she said. "Addressing our space needs is vital in fulfilling our mission and bringing our student and academic support services to the central portion of the building."
Dr. Paul Illich, SCC president, said it was important to create welcoming spaces for all students.
"We want to create spaces for students to have a sense of place and a destination versus a commuter campus," Illich said. "Commuting may be how a student arrives onto one of campuses or locations, but we want that student to have a sense of place and feel welcome to stay, study and learn, both inside and outside of the classroom."
Dr. James Sherwood, secretary of SCC's Board of Governors, said "This transformative initiative represents a critical step toward SCC's vision of 'creating the highest quality learning climates through permanent, innovative, modern, virtually linked, and collaborative spaces.' "
Lincoln Campus Student Senate President Emma Lindsey also spoke during the ceremony.
The project involved the construction of approximately 26,000 square feet that included a two-story addition (where the Library Resource Center is now located), and the renovation of approximately 80,000 square feet of existing spaces. Areas with renovated space include the Welcome Center, Advising, Adult Education, Instructional Design/Virtual Learning, Information Technology, the Student Activities Center, Student Enrollment & Accounts (Admissions, Registration & Records, Financial Aid, Student Accounts), Academic Success Center (tutoring), Safety/Security/Campus Office, Student Support Center (Accommodations Resource Office, Career Services, Counseling Assistance Program for Students, TRiO Student Support Services, Food Pantry), Testing Center, Veteran's Connect Center, Course Ground Coffee, and the Information desk. Many private study rooms and wellness rooms for personal use also were added.
The project also addressed vital fire and life safety needs, including fire suppression (sprinkling) of the current gymnasium, appropriate firewall separations, and appropriate egress, all in adherence to current fire and life safety code.
The project kicked off on April 28, 2021, with Omaha-based companies Alley Poyner (architect) and Boyd Jones (contractor).