Storm Golfer Qualifies for Nationals
May 12, 2023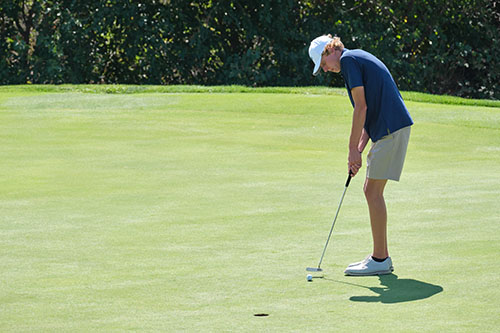 Southeast Community College freshman Luke Strako qualified for the National Junior College Athletic Association Division II golf championship after finishing second at the North Central District Championship May 1-2 in Panora, Iowa.
Strako, an Omaha Creighton Prep graduate, is the lone national qualifier from SCC. He will compete in the national tournament May 23-26 at Swan Lake Resort in Plymouth, Indiana.
Storm Coach Calvin Freeman said he was disappointed in his team's finish.
"Being ranked as high as No. 4 in the country this season, we had higher expectations," Freeman said. "Overall, I was disappointed in our results at the district tournament, but it shouldn't take away from everything the team accomplished this year. Although the tournament didn't go as we had hoped, the guys did everything in their power to set themselves up for success."
The Storm finished fourth in the 11-team district tournament behind national qualifiers Iowa Lakes Community College, Des Moines Area Community College and district winner Kirkwood Community College. Despite stumbling at districts, Freeman is excited for what this team can become.
"We reached our second-highest national ranking in school history (No. 4), won the Nebraska Intercollegiate, and every player on the roster improved their stroke average by at least one shot per round from the fall to the spring," Freeman said. "We will have our top six players returning next year as sophomores, so expectations will remain high."
After a rough first round of districts that saw SCC shoot 334, the team rebounded nicely with scores of 317 and 320 in the second and third rounds. Thomas Gatlin, a freshman from Lincoln (East High School) finished in a tie for 16th at districts with rounds of 83-81-81.
Strako, who lost on the third playoff hole for district medalist honors, shot 80 and 79 in the first two rounds, then even-par 72 in the final round.
"I am extremely proud of how Luke battled in the district tournament," Freeman said. "The tougher the conditions and the more important the tournament is, the better Luke plays. He played his last 28 holes in 2 under par, which was some incredible golf considering the 30 miles-per-hour wind and firm conditions."
Freeman said Strako has positioned himself to play well at nationals.
"Luke's game is in a good position to play well at the national tournament," Freeman said. "His length off the tee will be a huge advantage at Swan Lake Resort, so I am excited to see how he will handle it. With a player as talented as Luke, the sky is the limit on what he can accomplish. He has all the tools to be an incredible player and move on to an elite NCAA school. We look forward to playing the course, taking it one shot and one round at a time, and seeing where that puts him on the leaderboard at the end."
SCC individuals at Districts:
Luke Strako 80-79-72-231
Thomas Gatlin 83-81-81-245
Cole Feddersen 87-79-85-251
Harrison Foxall 92-78-83-253