Storm Basketball Player Picks Up Honor
April 06, 2023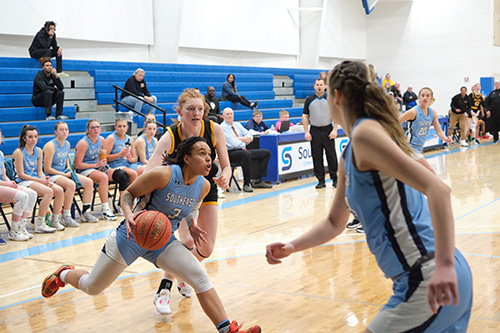 Southeast Community College point guard Matalynn Campbell has been named a Division II Third-Team All-American by the National Junior College Athletic Association.
Campbell, a freshman from Lincoln East High School, was one of only five freshmen to make the first, second or third teams.
Storm Head Coach Lynn Schlake said he was pleased with how Campbell improved in her first year in the program.
"Matalynn had a very good season," Schlake said. "She just got better as she grew with the game. She played hard at all times and made others around her better. She is only a freshman, so she should be a leader for us next season."
Campbell led the Storm in scoring, averaging 14 points per game. She also averaged five rebounds, 4.6 assists and 2.7 steals per game.
Campbell did not see action until five games into the season. She opened her season with a 23-point effort in an 86-63 win over Des Moines Area Community College. A week later she poured in a season-high 32 in a 93-90 loss to Neosho County (Kansas) Community College. Campbell was one of the Storm's leading scorers during the final month of the season.
The Storm finished the season with an 18-13 record. SCC won the Region IX championship before losing to United Tribes Technical College in the Northwest Plains Championship. Campbell also was named to the All-Region IX team.