Showcasing one of SCC's manufacturing grads
October 29, 2021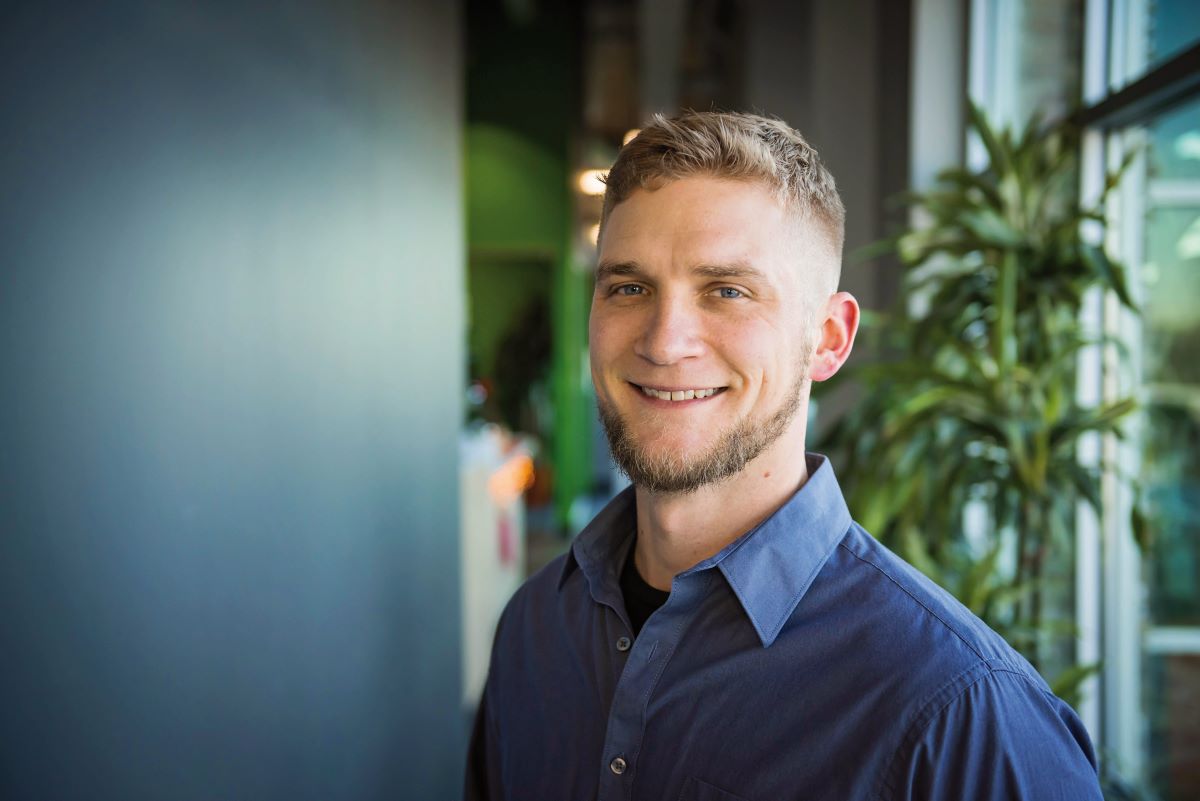 As Manufacturing Month comes to an end, Jessie Beach has some advice on how to get more people interested in a career that involves making things.
"It is extremely important to communicate the need and variety of manufacturing and trades," said Beach, team leader/nondestructive testing at Olsson, an engineering and design firm. "As early as junior high, people need to be made aware of existing and upcoming skill/trade opportunities. This will allow them to evaluate their passions and give them the opportunity to build on a future involving something they enjoy instead of just finding a job if the traditional four-year college route isn't for them."
Beach, who is originally from Raymond, is a 2014 graduate of Southeast Community College's Nondestructive Testing Technology program. He heard about the program while at Raymond Central High School.
"I knew a couple of folks in the (NDT) industry when I was looking at making a (career) change," said Beach, who worked in manufacturing for eight years while completing a degree in Business Administration at SCC's Lincoln Campus. "After doing some research on the (NDT) industry as a whole, speaking with the instructors, and then touring the Milford Campus, I decided it was the right path for me."
Beach pursued NDT because he wanted a career in a higher-demand industry and a higher salary, all the while still being able to work with his hands.
He's worked at Olsson since graduating from SCC, first as an assistant technician, now as the NDT team leader for the Lincoln and Omaha field offices.
"As a team leader, I'm responsible for the overall performance, leadership and management of our team," Beach said. "I help team members with their development both technically and professionally, as well as manage projects and clients for Olsson.
"I still hold my CWI (Certified Welding Inspector) and NDT certifications because when the schedule requires it, I'll get in the field and help fill gaps."
Beach said Olsson, like many companies, has experienced its share of challenges in recruiting skilled employees.
"Across our 30-plus offices, we have needs that cross each service that Olsson provides, including planning and design, engineering, field services, environmental, and technology," he said.
Beach encouraged current high school students to attend college fairs and visit manufacturing companies to get a better idea of what a career in that field might be like.
"Companies and colleges need to promote technical careers to audiences younger than high school," he said. "Because by the time they get to that step, they've either got an idea of the path they want to go down or feel like their path is set for them. Peaking their interest early on by way of STEM programs, or even telling the story of how technology is integrating into trades, may help bring more folks into industry sooner."
Beach praised the education and training he received from SCC's NDT program.
"The program gave a very in-depth technical understanding of what is used in the industry," he said. "It lays the groundwork to be able to specialize in an inspection method and saves employers a lot of time and money because they know the product that SCC's NDT program puts out. There's a clear difference between SCC grads and those from other schools or those that came up through the industry.
"(SCC instructors) Bill Wiley and Randy Walbridge pushed us as students to understand the basic concepts, but to also be able to dig in and find solutions when we encountered problems. They had very high standards, and because of that the SCC graduates are highly regarded in industry."
Beach and his wife Alli live in Elmwood with their three daughters.
-30-