SENCAP Helps Falls City Student
May 11, 2023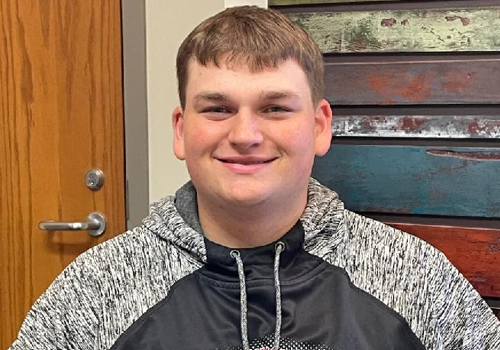 Earning college credit is one of the advantages of participating in the Southeast Nebraska Career Academy Partnership through Southeast Community College. Another is figuring out your career path before you enroll in college.
Jon Craig, a senior at Falls City High School, will be a freshman at Peru State College this fall. He already knows he wants a career in the medical field thanks to a job shadow opportunity through SENCAP.
"SENCAP was a great peek into what college classes will be like," Craig said. "I particularly enjoyed the job shadow because it showed me what a day in the life of a college athletic trainer is like. This definitely solidified my love for the medical field."
While in SENCAP, he set academic and personal goals for himself. Craig's goals ranged from earning all A's to becoming a better person to learning how to play golf. The goal-setting process taught him how much work you have to put in to achieve them.
"Some roadblocks I encountered along the way include sports, my cell phone, friends, and work," he said. "I wanted to earn scholarships, and my goals helped me with preparation, studying and completing assignments. This will help me in college and the rest of my life."
In March, Craig signed a letter of intent to play football for Peru State College this fall. An offensive lineman, he is also an honors student at FCHS.
"I can honestly say Jon is an outstanding student, academically and through his character," added Joy Stilmock, DC Advantage and SENCAP coordinator.
Craig has no regrets about challenging himself through SENCAP.
"I would recommend taking SENCAP classes for anyone going to college because the classes are very similar to college classes," he explained. "I can apply the skills I learned in SENCAP to my daily life as well."
SENCAP offers several pathways for high school juniors and seniors to earn college credits for half the cost. It's also a way to explore different career opportunities while getting hands-on experiences. Currently there are 47 school districts within SCC's 15-county service area taking advantage of the program.
Learn more about SENCAP at: https://www.southeast.edu/sencap/