SENCAP graduate now working in healthcare
March 21, 2023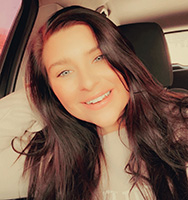 Becca Adams was the consummate high school student, taking full advantage of the Southeast Nebraska Career Academy Partnership program at Weeping Water High School.
She took SENCAP classes her junior and senior years. SENCAP is a partnership between Southeast Community College and nearly 50 school districts in the College's 15-county service area.
Adams started in the Criminal Justice pathway, but eventually switched to Healthcare.
"I took six SENCAP classes," she said. "Those classes prepared me more than I thought they would. I was able to take classes that I had interest in and learn what I would want to be doing full time. It was also beneficial to me to complete most of my prerequisites before I left for college."
Adams, a certified nursing assistant and patient support specialist at Pine Lake Behavioral Health & Medical in Lincoln, works with mental health and addiction medication patients in their journey toward sobriety. She is wrapping up her studies at SCC with plans to transfer to Bryan College of Health Sciences.
"I want to be a prescribing psychologist," Adams said. "Working in mental health for the last year has opened a door to me that I didn't realize would be so helpful to me."
After earning more than a semester's worth of college credits through SENCAP, Adams is a huge proponent of the program.
"I would absolutely recommend SENCAP classes to anyone in high school who plans to attend college after graduation," she said.
Learn more about SENCAP.