SCC's basketball hosting Region IX title games
February 28, 2023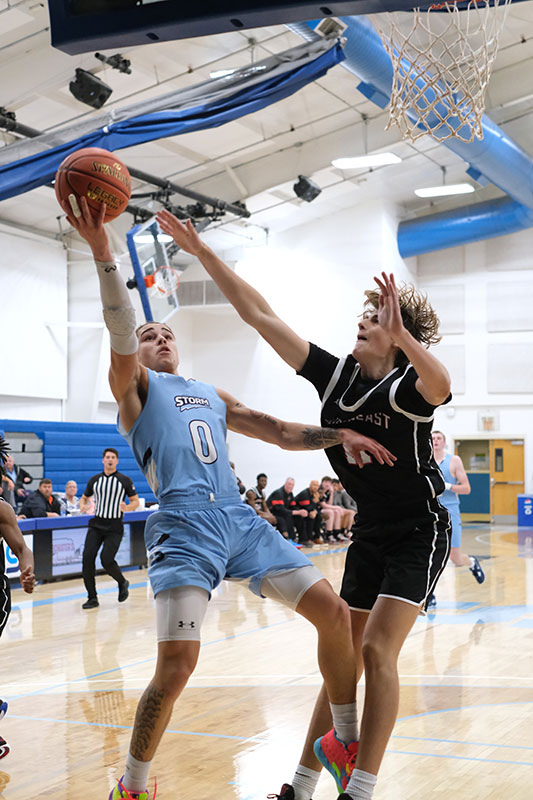 Lincoln, NE (March 1, 2023) – Southeast Community College's basketball teams are hosting the National Junior College Athletic Association Region IX championship games on Saturday, March 4.
The women's game, which pits SCC against North Platte, tips off at 1 p.m., while the men's game, featuring SCC against Central, will begin at 3:30 p.m. Both games will be held in the Truman Center Gymnasium on the Beatrice Campus.
The Storm women are 17-12 on the season and have won four consecutive games, including a 69-54 road victory over North Platte on Feb. 11.
The Storm are led in scoring by freshman Matalynn Campbell, Lincoln (East), 14 points per game; sophomore Kaylee Klover, Wymore (Southern), 12 points per game; sophomore Jordan Koehler, Johnson-Brock, 11 points per game; and freshman Shelby Siebold, Clay Center, Kansas, 11 points per game. SCC is 11-4 on its home court this season.
The Storm men are 23-6 overall, including a 12-1 record at home. SCC split with the Central Raiders during the regular season, winning the first game 69-59 on Jan. 21 in Beatrice, then dropping an 81-72 contest Feb. 25 in Columbus. SCC was ranked No. 19 in last week's NJCAA Division II poll.
The Storm are led in scoring by Denim Johnson, a freshman from Omaha (Central), who is averaging 22 points per game in just 15 games played. Luke Williams, a sophomore from Olathe, Kansas (South), is averaging nearly 19 points per game in 27 games played. Maijhe Wiley, a sophomore from Omaha (Creighton Prep), rounds out the double-figure scorers for the Storm with 13 points per game. He has played in all 29 games this season. SCC averages 76 points per game.