SCC, TCA students shine at SkillsUSA
May 09, 2023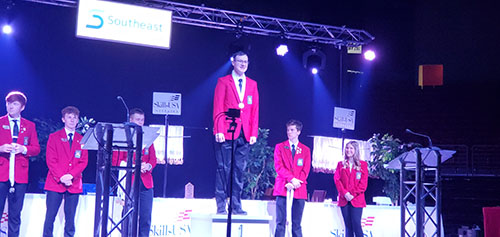 Southeast Community College students took home gold medals in 11 events, silver medals in nine events and bronze medals in five events at the SkillsUSA Nebraska Leadership and Skills Conference held April 13-15 in Grand Island.
Students in The Career Academy, a joint venture between SCC and Lincoln Public Schools, won gold medals in five events, silver in two events and bronze in two events in the high school competition.
Students receiving gold medals are eligible to compete in the National Leadership & Skills Conference June 19-23 in Atlanta, Georgia.
This year saw record state membership (2,133 compared to 1,738 a year ago) and in the number of state competitors as there were more than 1,600, an increase of at least 500 from a year ago.
SCC advisors who attended were Randy Koch, Precision Machining and Automation Technology; James Spann, Diesel Technology-Truck; Lynnette Frey, Manufacturing Engineering Technology; Cayden Riley, Auto Collision Repair Technology; Terry Kuebler, Powersports Technology; Steven Eisenmann, Building Construction Technology; Nathan Breuer and Jeff Ives, Electrical/Electromechanical Technology; and Bonni Riehle, Welding Technology. Riehle also was appointed to serve on the board for SkillsUSA Nebraska Chapter.
SCC and TCA results:
Additive Manufacturing - College/Technical
1st Place - Katlyn Nimtz, Christina Wolfgramm - Southeast Community College- Lincoln
Additive Manufacturing - High School
2nd Place - Cooper Penkava, Alex Brunkhorst- The Career Academy
Baking & Pastry Arts - High School
3rd Place - Joslyn Oglesby - The Career Academy
Cabinetmaking - College/Technical
2nd Place - Cole Hottovy - Southeast Community College-Milford
Carpentry - College/Technical
3rd Place - Kyle Heise - Southeast Community College-Milford
CNC 2 Axis Turning - College/Technical
1st Place - Bryce Stickley, Ogallala - Southeast Community College-Milford
CNC Programmer - College/Technical
1st Place - Cort West, Merna - Southeast Community College-Milford
Computer Programming - College/Technical
2nd Place - Clayton Cronk - Southeast Community College-Milford
Computer Programming - High School
1st Place - AJ Masek - The Career Academy
Career Pathways Showcase, Industrial & Engineering Technology - High School
1st Place - Ella Steensnes, DaVaya Notaro, Preston Nicholls - The Career Academy
Career Pathways Showcase, Natural Resources, Food - High School
1st Place - Corinne Taylor, Katie Wassenmiller, Addie Pope - The Career Academy
Culinary Arts - High School
1st Place - Kenny Tran - The Career Academy
2nd Place - Abby Steele - The Career Academy
Diesel Equipment Technology - College/Technical
2nd Place - Kaden Hevelone, Ogallala - Southeast Community College-Milford
3rd Place - Erik Hultquist - Southeast Community College-Milford
Engineering Technology Design - College/Technical
1st Place - Team A: Ryan Hartsock, San Diego, California; Brett Miller, Hardy; Kolton Ginter, Millard - Southeast Community College-Milford
Job Interview - High School
1st Place - Ella Steensnes -The Career Academy
Job Skill Demonstration A - High School
3rd Place - Sydney Aldrich - The Career Academy
Masonry - College/Technical
1st Place - Drake Schafer, Hampton - Southeast Community College-Milford
2nd Place - Travis Sandberg - Southeast Community College-Milford
Mechatronics - College/Technical
1st Place - Team A: Elijah Hestermann, Lincoln; Coy Johnson, Anselmo - Southeast Community College-Milford
2nd Place - Team B: Zachary Maroon, Nigel Holmes - Southeast Community College-Milford
Motorcycle Service Technology - College/Technical
1st Place - Christian Martinez - Southeast Community College-Milford
2nd Place - Peter Paul - Southeast Community College-Milford
3rd Place - Brook Nielsen - Southeast Community College-Milford
State Only Architectural Blueprint Reading - College/Technical
1st Place - Jeremy Matthews -Southeast Community College-Milford
State Only Precision Machining Technology - College/Technical
1st Place - Bennett Eckhorn, Omaha - Southeast Community College-Milford
2nd Place - Jake Young, Martell - Southeast Community College-Milford
3rd Place - LeDon Hatcliff, Lincoln - Southeast Community College-Milford
State Only Technical Team Problem Solving - College/Technical
2nd Place - Team A: Olivia Swanson, Lincoln; Noah Russell, Nebraska City; Roberto Navas, Grand Island; Josh Russell, Brownville; Clayton Cronk, Weeping Water - Southeast Community College-Milford
TeamWorks- College/Technical
2nd Place - Team B: Adam Neemann, Oakley Hodges, Chappell; Trenton Deshler, Oakley; Zach Hogrefe - Southeast Community College - Milford
Technical Drafting - College/Technical
1st Place - Noah Russell, Nebraska City - Southeast Community College-Milford
Welding - College/Technical
3rd Place - Taren Bantam - Southeast Community College-Lincoln
Welding Sculpture - College/Technical
1st Place - Abi Adamson - Southeast Community College-Lincoln