SCC Students Honored
April 13, 2023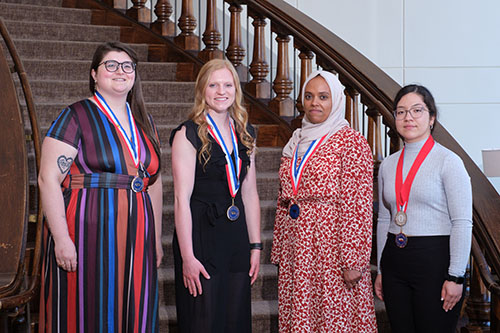 April is Community College Month, and six Southeast Community College students were recognized as members of the All-Nebraska Academic Team at the annual Phi Theta Kappa Recognition Ceremony and Luncheon. The ceremony was held on Wednesday, April 12, at the Cornhusker Marriott in Lincoln. Governor Jim Pillen delivered the keynote address prior to the presentation of the All-Nebraska Team.
"I'm a big-time believer in the community college system and all of the opportunities it gives you," Pillen said. "I believe in education and improving your skill set. If you do your best and take what you are given, you can do whatever you want."
Each student received a $1,000 scholarship as an All-Nebraska Academic Team member. SCC students honored:
· Carely Adame-Ortiz of Crete is a Land Surveying/GIS/Civil Engineering Technology student in Milford. She graduates in May and will either continue her education or seek employment.
· Newel Ahmed of Lincoln graduated with a Business Administration degree from the Lincoln Campus. She attends the University of Nebraska at Kearney where she is pursuing a bachelor's degree in business administration-management.
· Ernesto Gamez is a business major in Beatrice. The Grand Island native plans to transfer to the University of Nebraska at Kearney and will major in finance. Gamez was a member of the SCC men's soccer team.
· Emma Lindsey of St. Paul, Minnesota, is a Lincoln student in the Early Childhood Education program. She is president of the Lincoln Student Senate and Early Childhood Student Group. Lindsey graduates in May and plans to transfer to the University of Nebraska-Lincoln to pursue a bachelor's degree in early childhood education.
· Hannah Macke of Baileyville, Kansas, is in the Agribusiness program in Beatrice. A member of the women's basketball team, she plans to transfer to Kansas State University and major in agribusiness with a minor in animal science.
· Tai'an Williams is a Lincoln student in the Business program. A Lincoln native, she plans to graduate in December 2023 and will enter the workforce with the goal of obtaining a real estate license to become a real estate broker.
Adame-Ortiz was also named a 2023 Coca-Cola Academic Team Silver Scholar and will receive a $1,250 scholarship and a special medallion. Coca-Cola Academic Team members are honored for their academic excellence and intellectual rigor combined with leadership and service beyond the classroom to benefit society. In addition, Adame-Ortiz was the SCC student speaker at the event.
"I am a first-generation college student who had to work hard to overcome obstacles to get where I am today," Adame-Ortiz said. "I am going to be the first Hispanic woman to graduate from this program, and I understand how important it is for women to know they can succeed in a male-dominated industry."
Phi Theta Kappa was established in 1918 and has a presence on almost 1,300 community college campuses in 11 nations. PTK recognizes the academic achievement of college students and provides opportunities for its members to grow as scholars and leaders.