SCC ranked 60th nationally
March 06, 2023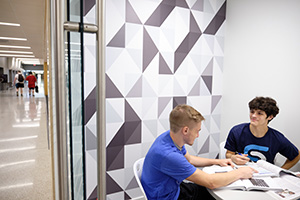 Southeast Community College ranks 60th among the top 100 community colleges nationwide in a list compiled by Stacker, a wire service that provides data-driven feature content to thousands of news outlets.
Stacker looked at data from Niche's 2023 Best Community Colleges in America to compile the list. According to its website, Niche connects colleges and schools with students and families and provides in-depth profiles on every school and college in America.
The data is based on rigorous analysis of academic, financial, and student life data from the U.S. Department of Education, along with reviews from students and alumni. The community college list includes public junior colleges, public technical schools, and all other public, two-year colleges.
The heaviest weight was given to factors of Academics Grade (40%) and Value Grade (27.5%). Niche's Academics Grade incorporates factors such as acceptance rate and quality of instruction, as well as student and alumni surveys regarding academics of the school. Niche's Value Grade incorporates statistics such as average student loan amount, alumni earnings and student surveys regarding value.
Other factors are Professors Grade (7.5%), Campus Grade (5%), Diversity Grade (5%), Student Life Grade (5%), Student Surveys on Overall Experience (5%), Local Area Grade (2.5%), and Safety Grade (2.5%).
For the purpose of the ranking, community colleges include public post-secondary institutions where the majority of degrees conferred are two-year degrees or less. The same methodology is used to produce the Overall Niche Grade for each ranked school as well as additional community colleges. Statistics obtained from the U.S. Department of Education represent the most recent data available, as self-reported by the colleges. Niche also collects data directly from schools via its school data update form.
https://stacker.com/education/100-best-community-colleges-america
https://www.niche.com/colleges/search/best-community-colleges/