SCC Apprenticeship Program Celebrates Kawasaki Partnership
November 15, 2023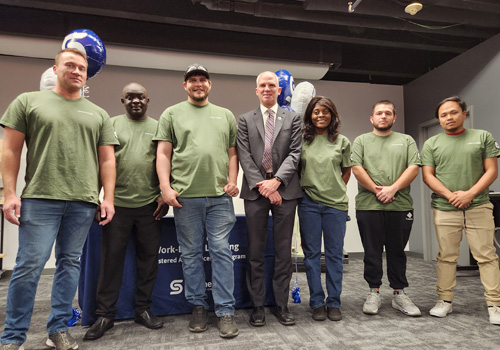 The Southeast Community College Apprenticeship program and Kawasaki Motors Manufacturing Corporation, U.S.A., celebrated their partnership on Wednesday, Nov. 15, at the Eicher Technical Center on the SCC Milford Campus as part of National Apprenticeship Week.
"This is an historic day to celebrate. This type of partnership is very important to Southeast Community College as it fulfills one of our strategic goals," said Dr. Paul Illich, SCC president. "We have this tagline at SCC to guide what we do at the College, and it's called your path to possible. When we talk about path to possible, we focus on the student, which is extremely important. Today we are broadening that path to possible to include our industry partners. We want our partners to be thinking about what are the possible pathways for them to have a qualified workforce and how we can help."
Kawasaki is the first employer to utilize SCC's apprenticeship program by signing on seven employees to upskill at SCC. The employees in the apprenticeship program are:
Beni Buzi Mbo Nta – Electromechanical
Gary Baxter – Electromechanical
Khalid Ibrahim – Electromechanical
Jonathan Lass – Electromechanical
Humberto Ornelas – Heating, Ventilation, Air Conditioning & Refrigeration Technology
Aaron Rios – Electromechanical
Pio Tayphen – Professional Truck Driver Training
"Today is all about the people at Kawasaki and their hard work," said Jim Townsend, corporate manager of safety/training and development/wellness at Kawasaki. "I really do believe when they matriculate, it forces us to raise our game. We need to be the employer of choice and this partnership with SCC is going to help us. I'm a person that likes to blow the model up and be the first. That's what we are doing here, and we are honored SCC chose us to be the first company in this program."
SCC received $4.8 million in American Rescue Plan funds in 2022 from the city of Lincoln to create an office of work-based learning which includes the Registered Apprenticeship Program. This program meets the needs of both employers and job seekers by allowing individuals to earn a salary while they learn, gaining skills and knowledge in the classroom and on the job. Additionally, an apprenticeship offers employers the chance to strengthen and build their workforce by providing a high-quality talent pipeline.
Learn more: https://www.southeast.edu/current-students/apprenticeships/index.php
Jennifer Snyder
Communications Specialist
402-323-3393
jsnyder@southeast.edu