SCC and Doane University sign agreement
September 29, 2022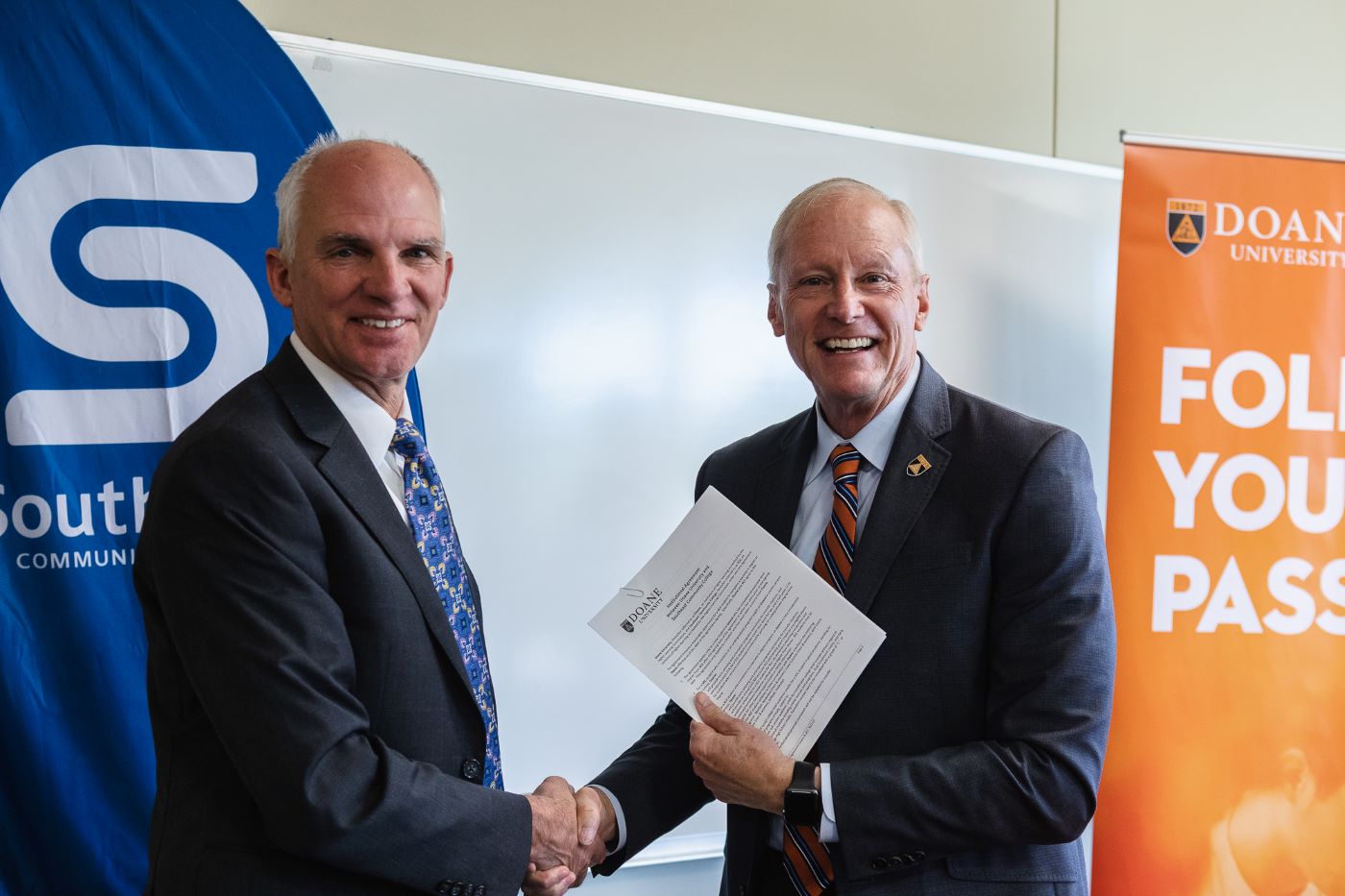 Students completing their associate degrees at Southeast Community College now have the option of making a seamless transition into a related bachelor's degree through Doane University at nearly the same cost. The Associate's to Bachelor's, or "A's to B's", partnership between SCC and Doane allows for new transfers to receive either reduced tuition while attending Doane courses in Lincoln or online, or a grant to attend Doane's residential campus in Crete.
Dr. Roger Hughes, Doane's president and 1982 alumnus, and Dr. Paul Illich, president of SCC, signed the institutional agreement cementing the partnership Sept. 26 at SCC's Jack J. Huck Continuing Education Center.
"We're very excited about these agreements and the opportunities they present to students," Hughes said. "No matter where an SCC student is in their educational journey or in their career, with this agreement, they have a clear, cost-effective route to attaining a bachelor's degree at Doane."
The partnership has been several months in the making, after Hughes and Illich met prior to Hughes's inauguration in April 2022, and involved the work of dozens of Doane and SCC employees. Although Doane and SCC have previously created articulation agreements to encourage students to transfer for specific programs, this is the first time the two have partnered to build an institutional agreement, which opens transfers to many more academic programs, as well as athletics.
"As more and more careers require new hires to have bachelor's degrees, we're proud to offer this opportunity to our students to complete both their associate degree and continue on that journey with Doane," Illich said. "This agreement makes that process easier than ever before for our students to further their education and careers, to compete in athletics at the NAIA level and to reach even greater success."
Illich said SCC offers a range of academic programs that complement what Doane offers on its residential Crete campus, as well as degree programs offered at its Lincoln and Omaha campus locations and online.
With the completion of the agreement, next steps for both institutions include working with enrollment and admissions teams to iron out individual program requirements. More than 50 degree programs from SCC are currently listed as options for students to transfer into around 18 of Doane's degrees in similar disciplines. This number may change as the process moves forward.
"This is a great opportunity for students, whether they want to have a residential campus experience in Crete or complete a bachelor's degree while working or caring for family," said Dr. Lorie Cook-Benjamin, chief academic officer. "One of the key pieces that Doane offers transfer students is that flexibility to receive their degree on their terms."
For an SCC student who transitions to an undergraduate program taught at Doane's Lincoln or Omaha campus locations, or online, the university will provide early advising and orientation programs exclusively for transfer students. Tuition will also be reduced by 15% for students transferring from SCC, on a per-credit hour basis for up to two-and-a-half years for a student who remains continuously enrolled while pursuing a bachelor's degree at Doane.
For an SCC student who transitions to a bachelor's degree program on Doane's Crete (residential) campus, Doane will provide early advising and orientation programs exclusively for transfer students, and will provide an annual $20,000 SCC partnership grant for four semesters of consecutive and continued enrollment. Student-athletes transferring from SCC are also invited to have conversations with coaches about continuing in athletics at the NAIA level in baseball, basketball, cross country, golf (men's only), soccer, softball and volleyball.
For more information about transferring to Doane, visit doane.edu/admission-and-aid/transfer-to-doane.