Mueller is new Director of Advising for SCC
July 12, 2022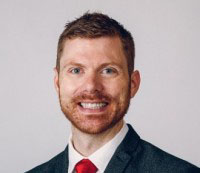 Kurt Mueller has been named the new Administrative Director of College Advising for Southeast Community College. Mueller comes to the College from the University of Nebraska-Lincoln where he most recently served as the Assistant Director of Graduate Recruitment.
"In my new position, I hope to continue the successes the advising team has had and leverage the expertise of our advisors to improve student onboarding and outcomes," he said.
Originally from northern Illinois, Mueller earned his Bachelor of Arts degree in Rhetoric from the University of Illinois, and his Master of Fine Arts in Creative Writing from Southern Illinois University. He's worked in a variety of student support and leadership roles over the years.
"Kurt has extensive experience in student affairs, academic advising, student onboarding, and new student orientation," said Mike Pegram, Associate Vice President, Student Enrollment. "His skills in the areas of student engagement, the use of educational technology and academic skill development will be a tremendous asset in his new role at SCC."
Mueller and his wife have three children, ages 6, 8 and 10. When he's not working, he enjoys cycling, exploring new restaurants and cheering on his favorite Chicago sports teams. His office will be at the Lincoln Campus. He can be reached at 402-437-2419, or kmueller@southeast.edu.