Milford grad finds a niche market with his storage solutions
June 06, 2022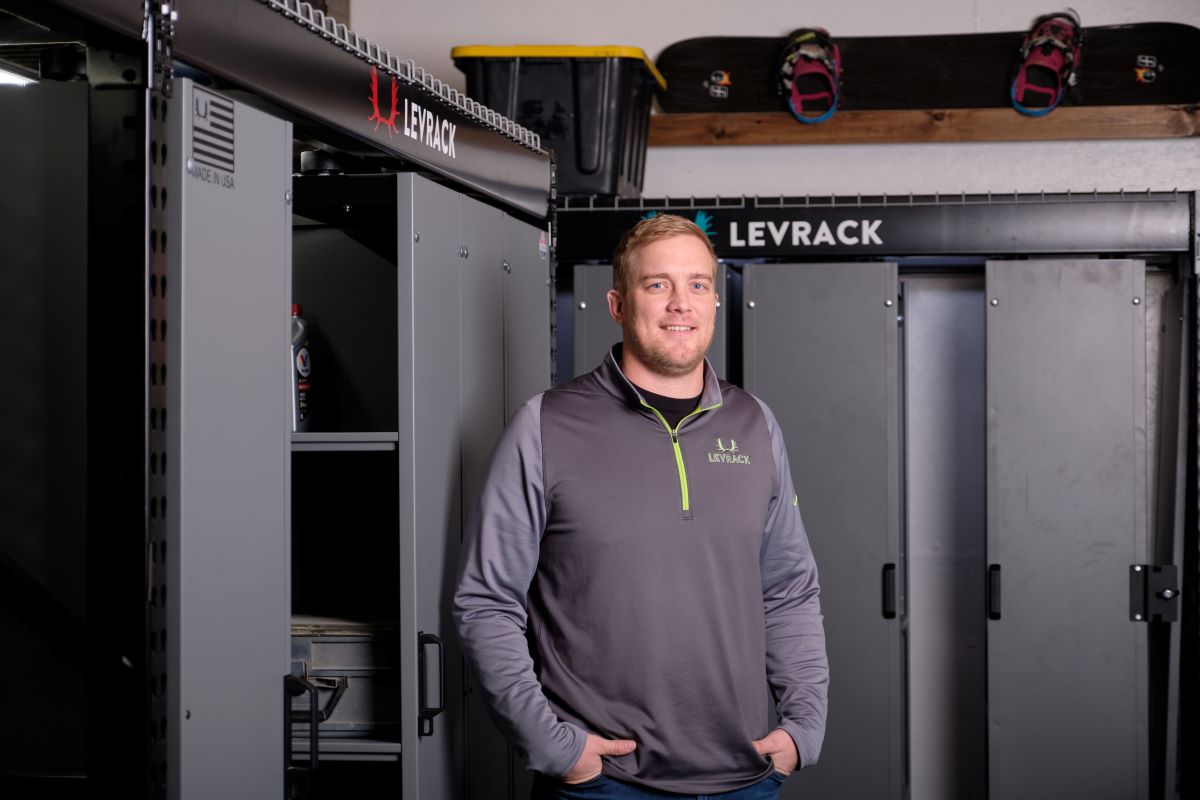 Milford native Austin Stauffer didn't go very far to find his post-secondary education at Southeast Community College in Milford. He graduated with a degree in Manufacturing Engineering in 2007.
"Design and manufacturing have always been a subject of interest for me and the fact that SCC was in my own backyard made it an easy decision," he said.
After interning at Kawasaki in Lincoln, Stauffer worked at Pacific Engineering, Inc., a composite fabrication company that worked on design and development for the U.S. military.
"One of my favorite projects was being part of a team that designed and manufactured a torpedo launcher as part of the Navy's Surface Ship Torpedo Defense System that we installed on the U.S.S. George H.W. Bush aircraft carrier."
When he was between jobs, Austin and his friend Ryan Stauffer (no relation) came up with a revolutionary idea. The duo co-founded Levrack, storage solutions for garages, farm shops, you name it. It came from a need for storage in their own farm shop. He thought existing ones were too expensive, inflexible or just didn't look very good. So, in 2015 they came up with their own version.
"Levrack is a high-density shelving system designed around pallet racking," he explained. "It's space saving capabilities and modularity make it the ultimate tool for any shop, garage or workspace that has a storage need. Later that year we won the People's Choice First place in the National Farm Bureau Entrepreneurs competition for our design."
The following year they took the product to market, and it has grown quite a bit with the help of social media. Their Instagram page was discovered by the co-host of a show called "Garage Rehab" on the Discovery Channel, as well as "Fast N' Loud" which opened many doors for Levrack.
"It really helped establish our brand within the automotive world and beyond," Stauffer said. "Levrack is now six years old and services a variety of markets from residential garages to hospitals and schools."
Austin and his team even got the attention of auto enthusiast, Jay Leno. Through a mutual connection in Los Angeles, they ended up sending two Levrack units to Jay Leno's Garage. Leno
even called up the support line himself to ask a question about installation.
"Later that year we were in L.A. dropping in on a few of our clients and we were invited to go check out Leno's Garage," Austin explained. "He was super gracious with his time and took us on a two-hour tour of his collection, telling stories and of course, jokes, along the way."
Stauffer said the most rewarding part of this business is all of the people he has met, and the places they travel to throughout the United States and Canada.
"We recently shipped Levrack kits to SpaceX and NASA, so each day is a new adventure," he said. "You never know what kind of email is going to land in your inbox."
As for the future, he hopes to continue to grow the brand awareness of the Seward company, and keep designing new products and tools to help service new and existing customers. When he's not running the Levrack business, he enjoys flying as he just got his pilot's license.