Koster to Receive Award
March 29, 2023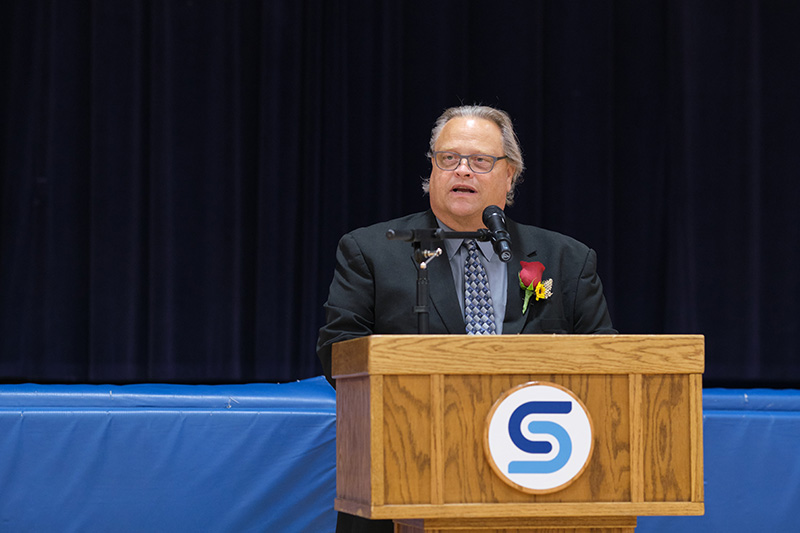 Ed Koster, vice president for research, planning and technology and Milford Campus executive director at Southeast Community College, is the recipient of the Friend of Special Education award through the Nebraska Council of School Administrators - Nebraska Association of Special Education Supervisors.
Koster will receive the award at a noon luncheon April 13 at the Courtyard by Marriott in Lincoln.
Michalla Schartz, Southeast Region transition facilitator and an instructor for Project CRAVE at Educational Service Unit No. 6 in Milford, praised Koster for his work with ESU 6. Project CRAVE is an SCC-Milford transition program that offers a variety of practice opportunities for secondary students with disabilities.
"Without a doubt, Ed has contributed to many young adults' lives who access special education services in many of our ESU 6 communities," Schartz said. "He is a leader, a mentor and a kind soul to each and every young adult who comes through the SCC-Milford Campus. He leads by example and design."
Koster is proud of the way SCC responds to the CRAVE students.
"The CRAVE students bring incredible value to the campus," Koster said. "Seeing the staff interact, mentor and teach them, as well as seeing how our student senate welcomes them into the campus community, is a profoundly gratifying experience."
Schartz nominated Koster for the award.
"Ed Koster has demonstrated leadership and initiative in partnering to establish and grow a Career Readiness and Vocational Education program for students with disabilities ages 18-21 on the SCC campus in Milford with ESU 6," she said. "He also has helped initiate partnerships between the SCC-Beatrice Campus and ESU 5 for a similar program and fostered communication to establish a site at the SCC-York Learning Center for a third program site. Mr. Koster has advocated for the students attending the CRAVE program to become integrated into the community while learning the skills needed to obtain employment to the greatest extent possible."
Schartz said the students' disabilities range from Down's Syndrome, autism, intellectual disabilities, learning disabilities, or some combination of these.
"Each of these students is able to work within the structure of SCC to build marketable employment skills in high-need areas for our region," Schartz said.
Students learn how to obtain a job, how to keep it and how to advance within the job. Each student receives mentorship from those skilled in the area and employed by SCC or its subsidiaries. The young adults interact with peers of the same age on the college campus socially and in leadership positions within the Student Senate.
Dr. Michele Rayburn, director of student services at ESU 6, said Koster "is a champion for inclusive practices."
"He creates a network of support to improve outcomes for all learners at SCC because he believes we are all still learning," Rayburn said. "It is just who he is, a lifelong learner who leads by example."
She went on to say Koster demonstrates his expectations for others.
"He is often seen stopping by to interact with students, praise job performance, foster new relationships with departments or employees or simply to be present in these young adults' lives," she said. "He has time for all CRAVE students, encourages his staff to do the same, provides resources to help the program stay successful and works to provide opportunities for these young adults with disabilities to become meaningful adults in the SCC and their own communities."
Koster said the partnership upholds SCC's mission.
"As a community college, our mission is simply to meet students where they are academically and teach them marketable skills," he said. "The CRAVE students are another group of students that naturally fit our college's mission."