Jose Soto has worked at the College for 30 years
October 07, 2022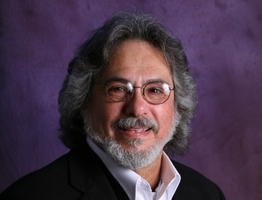 Since February 1992, Jose Soto has been responsible for providing policy and program leadership for diversity in the workforce, fair employment practices, and working toward creating a work/educational environment free of discrimination and bias.
His title at Southeast Community College may have changed – from vice chancellor for Affirmative Action and Equity to vice president for access/equity/diversity – but Soto's responsibilities have remained consistent during his three-decade-long career. He's a member of the SCC Administrative Team, and his duties span all SCC locations "addressing various aspects of the diversity and inclusion dynamic."
"Most of the changes have been at the system/institutional level and related to growth," said Soto, 73. "More employees, more locations, more diverse student body, and more diversity in the communities we serve. Functionally, changes in federal law such as Title IX, emerging civil rights challenges such as LGBTQ issues and 'Black Lives Matter', changes in College leadership, and changes in political administrations at the state and federal levels have impacted the sum and substance of my position."
Soto has worked for four SCC presidents during his tenure.
Born in Puerto Rico
Soto was born in Arecibo, Puerto Rico, and raised in Lares, a small town in the western mountainous region of the island. His father was in the U.S. Army, and his mother cared for Jose and his sisters at home.
"We grew up in an extended family, interacting daily with my grandparents, aunts, uncles, and cousins," Soto said.
When he was six his father was stationed in Germany. The family moved to Heidelberg and lived there three years.
"That's where we all learned to speak English, in addition to conversational German," he said.
To the States in 1958
Soto and his family arrived in the U.S. in late 1958. His father was stationed at Fort Chaffee in Fort Smith, Arkansas, and the family followed. After Arkansas, moves to Fort Hood (Killeen, Texas), Fort Riley (Junction City, Kansas) and to The Presidio (San Francisco, California) occurred.
As a pre-teen in the late 1950s, Soto was exposed to racial issues for the first time.
"That was a tumultuous time in the U.S., and race seemed to dominate the political and social landscapes," he said. "The concept of segregation by race was foreign to us. We did not understand the rules and expectations related to race. For example, we were confused by signage in public areas and facilities that designated certain entrances, seating areas, water fountains, and services for 'whites' and others for 'colored.' We soon learned that, while we were 'brown,' we were not 'colored' and thus could access facilities and amenities for 'whites.' Regardless, my family typically socialized with other Puerto Ricans of all races, spoke Spanish at home, and mixed with 'whites' only at school."
Observing National Hispanic
Heritage Month
Soto has conducted numerous training sessions on cultural diversity and education. National Hispanic Heritage Month "provides us an opportunity to be more mindful of our collective achievements and continuing challenges."
"We attend community activities and enjoy programming on TV that focuses on the Hispanic/Latino experience in the U.S.," Soto said.
He has served as a member and advisor to numerous initiatives, committees and efforts, including the Nebraska Ethnic Minority Health Coalition, the Minority Health and Human Services Advisory Committee, the Nebraska Cultural Competency Network, the Nebraska Department of Corrections Task Force on Hispanic Populations, and the Martin Luther King Jr. Freedom Breakfast Planning Committee Chair.
Soto also has been appointed to serve on various councils and committees, including the Nebraska Advisory Committee to the U.S. Commission on Civil Rights, Washington, D.C.; the Clyde Malone Community Center Board of Directors; and the University of Nebraska President's Advisory Council.
The month recognizes achievements and contributions of Hispanic Americans who have inspired others to achieve success.
"I have mentored others to assist them navigate through the challenges they face as students, employees and members of our community," Soto said.
Soto and his wife of 34 years, Peggy Olson, have three adult children (Mitchi, Keaton and Cooper) and three grandchildren (Jelani, Jaymi and Mila).
-30-
Stu Osterthun
Director of Marketing & Communications
402-323-3401
sosterthun@southeast.edu