It's Official!
April 19, 2023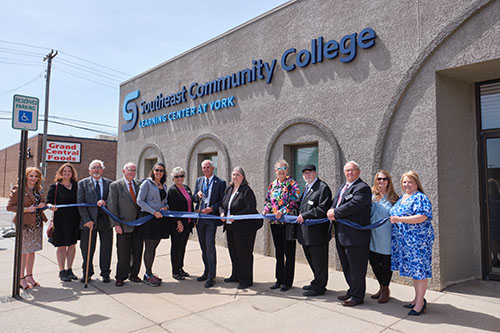 Southeast Community College's Learning Center at York was officially dedicated Tuesday, April 18 with a ceremony and ribbon-cutting ceremony.
The event came a little more than 14 months after the College signed the lease on a new location at 401 N. Lincoln Ave. in downtown York. Diane Houdek is coordinator at the Center.
"This is a great day for Southeast Community College and the York community," Houdek said. "We're offering credit and non-credit classes, but at some point, I'd like students to be able to complete an entire certificate or degree program at the Center."
The Center has four classrooms, with a fifth used primarily for nursing classes. There also is a small conference room and several study areas. Educational Service Unit 6 also holds classes for its Project SEARCH in part of the building.
Lisa Hurley, executive director of the York County Development Corporation, praised the partnership between SCC and the York County region.
"We were hoping that SCC could help provide additional training opportunities to area businesses, both credit and non-credit classes, that would build upon what was already happening in York County," said Hurley, who attended the opening of SCC's first learning center in York in 2016. "The diverse business base in our region has many needs to train current and future employees as business practices evolve, which SCC has looked at in-depth with this location."
Dr. Paul Illich, SCC president, said, "This is tremendous that we're now having an opportunity to relocate, again in York, but it all started with this idea that we truly want to be open access."
"This location is very visible and will make it very easy for our community members to take both credit and non-credit courses," Hurley said. "It will be easy for students to take classes. I'm excited to see it become another hub in our community for our businesses and our workforce."
For more information, go to www.southeast.edu/YorkLC.
Ribbon-cutting photo cutline
From left: Cinda Konken, SCC dean of Extended Learning; Lisa Hurley, executive director, York County Economic Development; SCC Board Members Arlyn Uhrmacher, Dr. James Sherwood, Dr. Corina McCormick, and Nancy Seim; SCC President Dr. Paul Illich; SCC Board Members Vicki Haskell, Kathy Boellstorff, Chuck Byers, and Neal Stenberg; Madonna Mogul, York Chamber of Commerce; and Diane Houdek, coordinator of the York Learning Center.