High School Student Earns Certification
March 14, 2023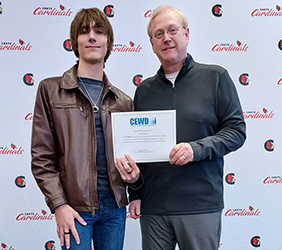 Crete High School student Glen Clouse earned certification from the Center for Energy Workforce Development by successfully completing the Energy Industry Fundamentals training, aligning to Tiers Four and Five on the Energy Industry Competency Model.
Clouse was enrolled in the Energy Industry Fundamentals course through Southeast Community College. The course was offered through the Southeast Nebraska Career Academy Partnership program at Crete High School. After completing the final exam, Clouse was one of only five students to earn the certification.
The EIF class focused on understanding various types of energy and their conversion to useable energy such as electrical power. It presented how electrical power and natural gas are transmitted and distributed, as well as the compliance with safety procedures. Careers in energy industry and entry points also were covered.
The SENCAP program is in partnership with 64 high schools in SCC's 15-county service area and offers numerous academies, including Agriculture, Business, CDL, Construction, Criminal Justice, Education, Healthcare Services Certificate, Information Technology, Livestock, Energy, and Welding. Students have an opportunity to explore career fields which interest them before they start college. Students get a first-hand look at what goes on in the workplace by taking field trips, participating on job shadows, listening to speakers, and conducting research on career interest.
During the first semester of this school year, approximately 70 Crete students were enrolled in the SENCAP classes. Michael Morris is the SENCAP coordinator for the Crete district, and Dawn Draeger is the high school counselor who helps students decide which classes might interest them. Most all classes are taught online by SCC instructors, and final grades go on the student's permanent transcript. The students can transfer their credits to many other colleges and universities.