Groundbreaking Ceremony Set
March 14, 2023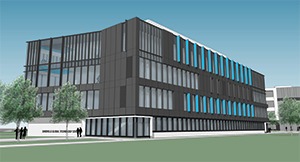 Construction on the $32.4 million Sandhills Global Technology Center will officially kick off March 22 with a groundbreaking ceremony on the Lincoln Campus of Southeast Community College.
The event begins at 11 a.m. just east of the Health Sciences building. A reception is scheduled for Course Ground Coffee inside the new Student and Academic Support Center.
Sandhills Global, an information technology company with headquarters in Lincoln, made a $5 million gift toward construction of the facility. The donation is the largest in the College's history.
Dr. Paul Illich, SCC president, said the building is part of the College's vision to transform and empower its diverse learners for fulfilling careers, lifelong learning and community and societal advancement.
"SCC is committed to strengthening its communities and directly addressing the ongoing shortage of skilled workers by expanding its capacities on each campus," Illich said. "The College is strategically pursuing its vision of creating destinations and the highest quality learning climates through permanent, innovative, modern, virtually linked, sustainable, and collaborative facilities for its students, employers, and communities."
Weitz Construction of Lincoln is the general contractor for the project. BWBR, with offices in Omaha; St. Paul, Minnesota; and Madison, Wisconsin, is the architect.
The facility is expected to be completed in time for the start of the 2024 Fall Semester.