Dr. Amanda Baron brings a rich history to SCC
September 15, 2022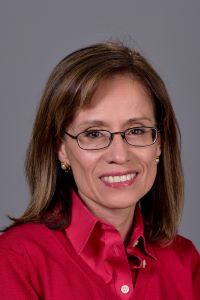 Originally from Bogota, Colombia, Dr. Amanda Baron brings a different perspective and life experience to Southeast Community College. She hopes designated months like National Hispanic Heritage Month help spread cultural awareness.
"Everyone can learn more about the traditions, culture, scholarship, art, history, and experiences of individuals who have positively influenced and enriched our nation, and continue shaping it," she said. "Recognizing people's heritage helps us ensure we are inclusive of all members of our community."
Baron is the sixth of nine children in her family. She attended the Teacher's College at Universidad de Los Andes where she received a degree in foreign language instruction and a master's equivalent in translation. She first came to the United States in an exchange program between her college and Minnesota State University in Moorhead. After her second year as a visiting instructor, she came to the University of Nebraska-Lincoln where she studied for her Ph.D. in Spanish, with a concentration in Latin American Literature.
"While at UNL, I met my husband, John Fritts, through one of my professors," she recalled. "At the end of this month, we will celebrate our 25th anniversary."
Baron has been at SCC for 27 years. She started as a Spanish instructor, then became the language coordinator, co-chair of the Humanities program and is now Associate Dean of Arts & Sciences.
"I have been fortunate to count on deans who are visionary and supportive of faculty and staff professional growth," she said. "In my current job, I work with incredible faculty members who are innovative, caring, hard-working, and fun to workwith."
Baron said being away from family is a great challenge, but dealing with microaggressions is yet another. In order to counter these challenges, she focuses on civic engagement. She believes in giving back to the community in which she lives, and volunteers at organizations such as the Lincoln Arts Council, the Malone Center and Las Voces. The goal of the latter is to advocate and inspire positive change in the Latino/Hispanic community of Nebraska.
"The Great Seal of the United States, adopted in 1776, contains the motto 'E pluribus unum, which means:Out of Many, One,' " she said. "While at the time it reflected a determination to assemble a single unified nation from a collection of states, it has also come to symbolize that each heritage is one of many voices in one nation."
When she's not making a difference in the local community, Baron enjoys running and spending time with her cat, EdWord.