Dorn Makes Global Impact
October 02, 2023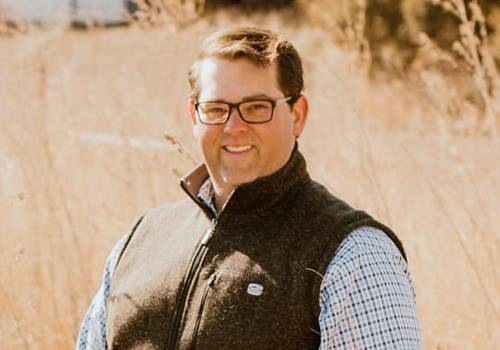 Sometimes your proudest moments come from the least likely place or time. Andy Dorn enrolled in SCC's Agriculture Business & Management Technology program in 2006 with a different vision for his future. That all changed after taking a sales/ marketing course with Dennis Toalson.
"He had a hard-core teaching style that at first I didn't like," Dorn said. "But, as I grew in my development, I came to appreciate and deeply respect his style. Eventually, I was one of a few students to receive an A+ in his sales/marketing course. I was and still am very proud of that achievement."
Dorn is from Minden, Nebraska, and graduated from Wilcox High School. He figured he would graduate from SCC and return to the area to pursue a career in livestock production on a ranch or feedlot. Taking advantage of an internship opportunity changed his career trajectory.
"When I started college, I definitely did not see myself doing what I do today," he explained. "Because of the excellent intern program at SCC, I was afforded an opportunity to intern with Allflex (currently owned by Merck Animal Health). Through that internship, I found a great deal of passion and fulfillment in helping producers be more efficient and profitable through technology."
After graduating from SCC in 2009, Dorn started working for Merck/ Allflex and has held positions in sales, marketing and product management. Today he is the Global Director for Beef Technology at Merck Animal Health. All of this would not have been possible if not for the hands-on education he received at SCC.
"The most influential way I was prepared was through my internship experience," he said. "But the hands-on learning that was offered in many of my courses likely had a large contribution as well. Getting into the actual hands-on portion of classes like breeding was very helpful in developing the skills and knowledge I still use today."
Dorn is based in Nebraska and also keeps up with cattle production. He and his wife Hannah built a cow-calf operation from scratch in central Nebraska. When he is not working, he spends his spare time in the summer at their property in the Sandhills and the winter in Minden. They also enjoy golfing, traveling and spending time with their Australian shepherd, Mae.
One piece of advice Dorn has for prospective students is to build relationships with their instructors and learn from their advice. In addition to Toalson, Dorn appreciates the guidance he received from instructor Lynn Schlake, former instructor Mark Goes and others at SCC. He is certain he would not be where he is today without their help.
"The experience I had at SCC set me on a path for a great deal of fulfillment," Dorn said. "I am sure if you asked Mark, Dennis or Lynn, they would likely tell you they had their work cut out for them when I walked through the door. I want to say thank you to them and others at SCC for taking the time to help me along the way. You can't expect things to be done for you, but you can allow people to help you. This will allow you to do whatever you set out to do."
He also encourages others to follow their dreams, never settle and don't sweat the small stuff.
"When I stepped on the SCC campus, I couldn't have dreamed about the people I would meet, the places I would see and the opportunities I would be afforded," he said. "I have traveled the world and met wonderful people with a similar goal of raising a sustainable, efficient protein for our growing world. The agriculture family is a magical place full of opportunity. If you're able to set goals, be determined and don't let the little things get in your way, you can literally do anything."
Jennifer Snyder
Communications Specialist
402-323-3393
jsnyder@southeast.edu