Construction Officially Begins!
March 22, 2023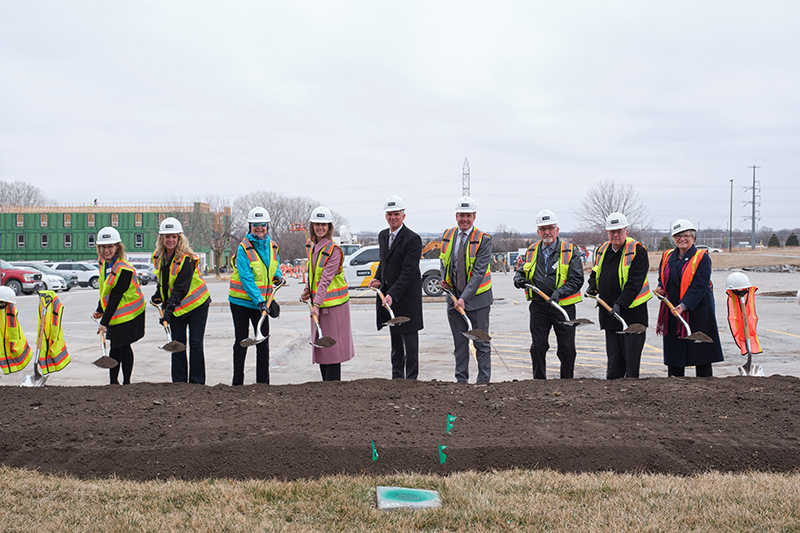 Construction on the $32.4 million Sandhills Global Technology Center on the Lincoln Campus of Southeast Community College officially began March 22 with a groundbreaking ceremony.
Sandhills Global, an information technology company headquartered in Lincoln, made a $5 million gift, the largest in SCC's history, toward construction of the facility. Shawn Peed, chief executive officer of Sandhills Global, attended the groundbreaking.
SCC also received nearly $4.5 million in federal American Rescue Plan funds distributed by the city of Lincoln to address workforce development needs. The funds are supporting SCC's new Office of Work-based Learning and dedicated lab spaces to provide upskilling, reskilling, and other asymmetrical training opportunities in the information technology industry.
The Dillon Foundation donated $500,000 toward the project.
Dr. Paul Illich, SCC president, said the building is part of the College's vision to transform and empower its diverse learners for fulfilling careers, lifelong learning and community and societal advancement.
"This is a very exciting time for Southeast Community College as we go through a number of transformative phases," Illich said. "The event we are celebrating today is the direct result of the implementation and relentless pursuit of our strategic plan to expand our capacity to produce a skilled workforce and to provide affordable access to higher education. The new Sandhills Global Technology Center is an example of SCC's and our industry partner's commitment to directly address the skilled workforce gap in Nebraska."
Lincoln Mayor Leirion Gaylor Baird, guest speaker, said Lincoln's long-term commitment to equipping SCC students and area residents with life-changing opportunities is being celebrated with the launch of the new facility.
"For our local employers, this new facility will be an opportunity to reskill and upskill their existing workforce. For students, this is a place where they, too, can break ground. This is a place where they can prepare to enter the fields of health sciences, biotech, manufacturing, electronics, and cybersecurity. This also reflects our commitment to the value that SCC provides to our community every day and to the hands-on education that will soon take place inside the walls of this new facility."
Arlyn Uhrmacher, vice chairman of SCC's Board of Governors, also spoke during the ceremony.
Weitz Construction of Lincoln is the general contractor for the project, which will consist of 75,000 square feet for Computer Information Technology, Electronic Systems Technology, Biotechnology, and Design & Drafting Technology programs. BWBR, with offices in Omaha; St. Paul, Minnesota; and Madison, Wisconsin, is the architect.
The facility is expected to be completed in time for the start of the 2024 Fall Semester.