Construction Career Fair draws full house
March 07, 2023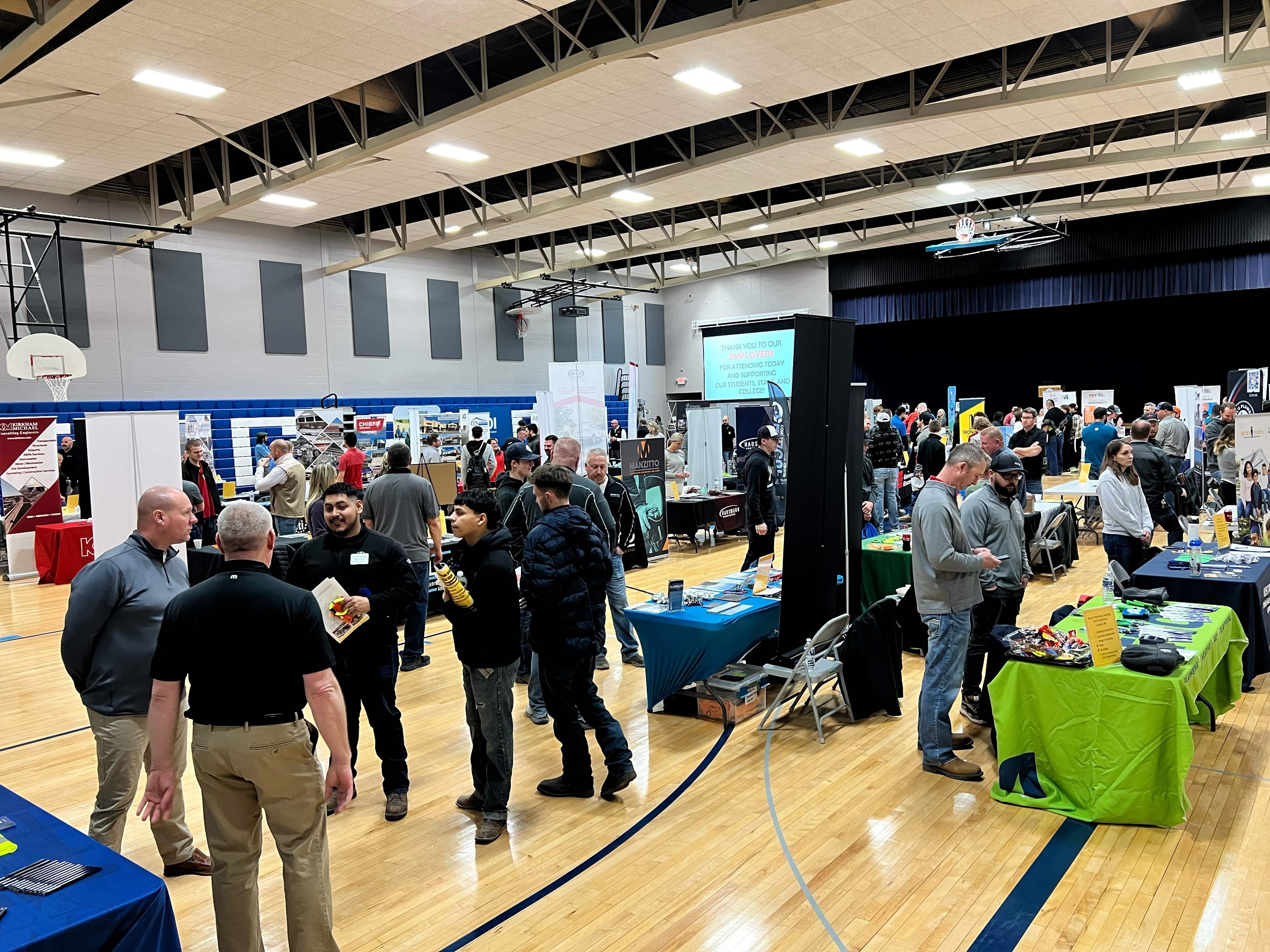 You might say Felix Huynh was just kicking tires when he attended the Construction Division Career Fair a year ago on Southeast Community College's Milford Campus.
But one thing led to another, and now Huynh, who will graduate in May from SCC's Building Construction Technology program, will start a full-time job with BIC Construction of Lincoln just days following graduation.
"We were set up in the corner (of the Welsh Center Gymnasium), and Felix was looking for something to do," said Justin Schulz, Partner of BIC Construction. "He applied with BIC and was part-time last summer."
Huynh and dozens of other SCC students attended the March 7 career fair, the first of four in March on the Milford Campus. Eighty companies, including two from as far away as Overland Park, Kansas, attended the fair, which was designed for SCC students in Building Construction, Concrete Construction, Design & Drafting, HVAC/R, Land Surveying, and Plumbing.
Huynh is a graduate of North Star High School in Lincoln, where he enjoyed two years of woodworking classes. He first learned about BIC while working as a delivery driver for a friend who owns a cabinet warehouse.
While at SCC, Huynh has been trained in all areas of building construction: concrete, masonry, cabinetry, processes and practices, and house construction. Huynh said he enrolled in the program without visiting campus.
"I was kind of overwhelmed at first," he said. "But it was nice to see all of the programs on campus. I really hope to be able to hang cabinets, do trim work, that type of work."
Schulz said he's "looking for people who want to make construction their career. Students who are eager, hard-working and want to learn."
Lamp Rynearson of Omaha, whose projects range from aviation and drinking water to landscape architecture and roadways, was looking for surveyors at the fair. Bryson Keller, 22, a 2021 graduate of SCC's Land Surveying/GIS/Civil Engineering Technology program, is a CAD technician with the company.
"I do computer work for properties, some plats, help design storm sewers, things like that," Keller said. The Wahoo native majored in civil engineering at the University of Nebraska-Lincoln, but transferred to SCC after a year.
"I saw Civil Engineering after the name Land Surveying and decided to check it out," said Keller, describing how he ended up at SCC. "The smaller classes were really helpful in team-building. There were 10 students in my class, compared to around 200 at the university."
Scott Holbrook, loss control manager at Paulsen Inc. in Cozad, said his company has 10 openings in its commercial building department.
"We have five to six crews in our commercial department and around 275 total employees," he said. "We're looking for a variety of people to hire."
Duane Torson, drafting manager, and Tarryn Fulton, administrative manager, attended the fair representing Chief Buildings in Grand Island. Their primary interest was in hiring drafters.
"We employ around 60 drafters at our Grand Island, Lincoln, Fort Dodge (Iowa), and Eufaula (Alabama) facilities," Torson said. "We've been attending this fair off and on for the last 10 years. We have got to keep recruiting because we have a number of employees who will be retiring in the next five years."
Anyone joining Chief Buildings for its Drafting Career Exploration Program can earn up to $800. Registration opens March 20.