Congressman to Visit SCC Learning Center
March 08, 2023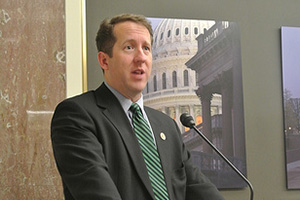 Nebraska Congressman Adrian Smith will make a stop in Nebraska City on Monday, March 13, as part of Workforce Week, an initiative Smith is promoting across the state.
Smith, who represents Nebraska's 3rd District, will be at Southeast Community College's Learning Center in Nebraska City from 1:45-2:15 p.m. The visit will include a short tour and meeting with students in the Construction pathway.
"This is an exciting opportunity to showcase our Learning Center and the great work we are doing in Nebraska City," said Cinda Konken, dean of extended learning at SCC.
During Workforce Week, March 12-18, the goal is to feature state legislation that will make a difference in meeting the state's workforce challenges and raise awareness about other workforce priorities. Providing some state funding for career/technical education programs, in addition to federal Perkins funding, is one of those priorities.