Building Construction alum designs churches
June 10, 2021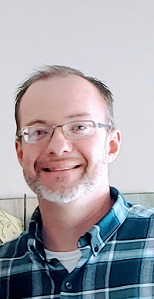 Milford alumnus Dwight Bishop is a chief estimator for Brown Construction in Kearney. What makes the company unique is its main focus is the design and construction of churches throughout the nation.
"I really enjoy working with the churches from the conceptual stage to the final construction bidding," Bishop said. "The church process is not very quick. It can take several years from concept through fundraising and building. It is always very rewarding to complete the construction of a church."
Bishop graduated from SCC Milford in 1997. He worked for various businesses before settling at Brown Construction. Over the years he's worked his way up the ladder and loves his job.
"I was able to begin my career at Brown Construction as a carpenter, moving up to a foreman, superintendent, general superintendent, and now chief estimator," he said. "Being able to learn all areas of the building process allowed me to move up through the ranks and end up where I am today."
He was initially attracted to SCC because of the hands-on experience he was gaining, as well as the instructors having had real-world experience in the fields they taught. He also made many lasting friendships with both students and instructors.
"I enjoyed the level of training I received in so many aspects of the construction trade, from laying brick to estimating," he recalled. "It was a well-rounded program."
Because of the onset of COVID-19, churches were changing the way services were being held, which meant many of the church construction projects were put on hold. As a result, Brown Construction branched out and took on other construction projects throughout Nebraska.
"A few of the projects we were recently awarded include the Kearney Community Tennis Facility, the Lincoln County Jail in North Platte, and the Grant Swimming Pool."
Bishop said he plans to stay at Brown Construction until he retires, since he loves what he does and the people he works with. When he's not working, he enjoys turkey hunting and spending time with his wife of 20 years, Tricia, his daughter Ariana and his son Gavin.
If you have any alumni feature ideas, please send them to agallagher@southeast.edu