AEC Wins Another Design Award
April 12, 2023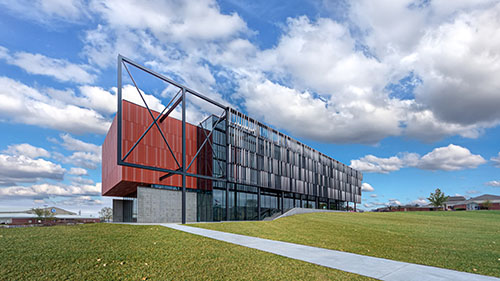 The Academic Excellence Center on the Beatrice Campus of Southeast Community College captured another honor this month as it is among 13 projects that won the 2023 Education Facility Design Award by the American Institute of Architects' Committee on Architecture for Education.
The AEC is among seven facilities that received Awards of Merit.
"In order to be eligible for AIA's Awards of Excellence, the architect must demonstrate exemplary practice," the AIA stated. "Additionally, the design must meet a host of criteria, including enhancing learning in classrooms, balancing function with aesthetics, establishing a connection with the environment, being respectful of the surrounding community, demonstrating high-level planning in the design process, and integrating sustainability in a holistic fashion."
In January, the AEC had already received numerous accolades, including the prestigious 2022 American Architecture Award from The Chicago Athenaeum: Museum of Architecture and Design.
The facility was one of 12 named in the Schools/Universities category and among 150 projects chosen by Italian architects and recognized for being the best new architecture designed and constructed by American architects and by international architects with offices in the United States.
The 52,000-square-foot building, which opened in 2021, includes classrooms, health and science labs, and a multi-functional room that can be used for many purposes. The $19 million facility was designed by BVH Architecture and Gould Evans (now Multistudio) and was constructed by Hausman Construction.
View the full list of winners.