Academic Excellence Center in Beatrice receives numerous architectural awards
January 12, 2023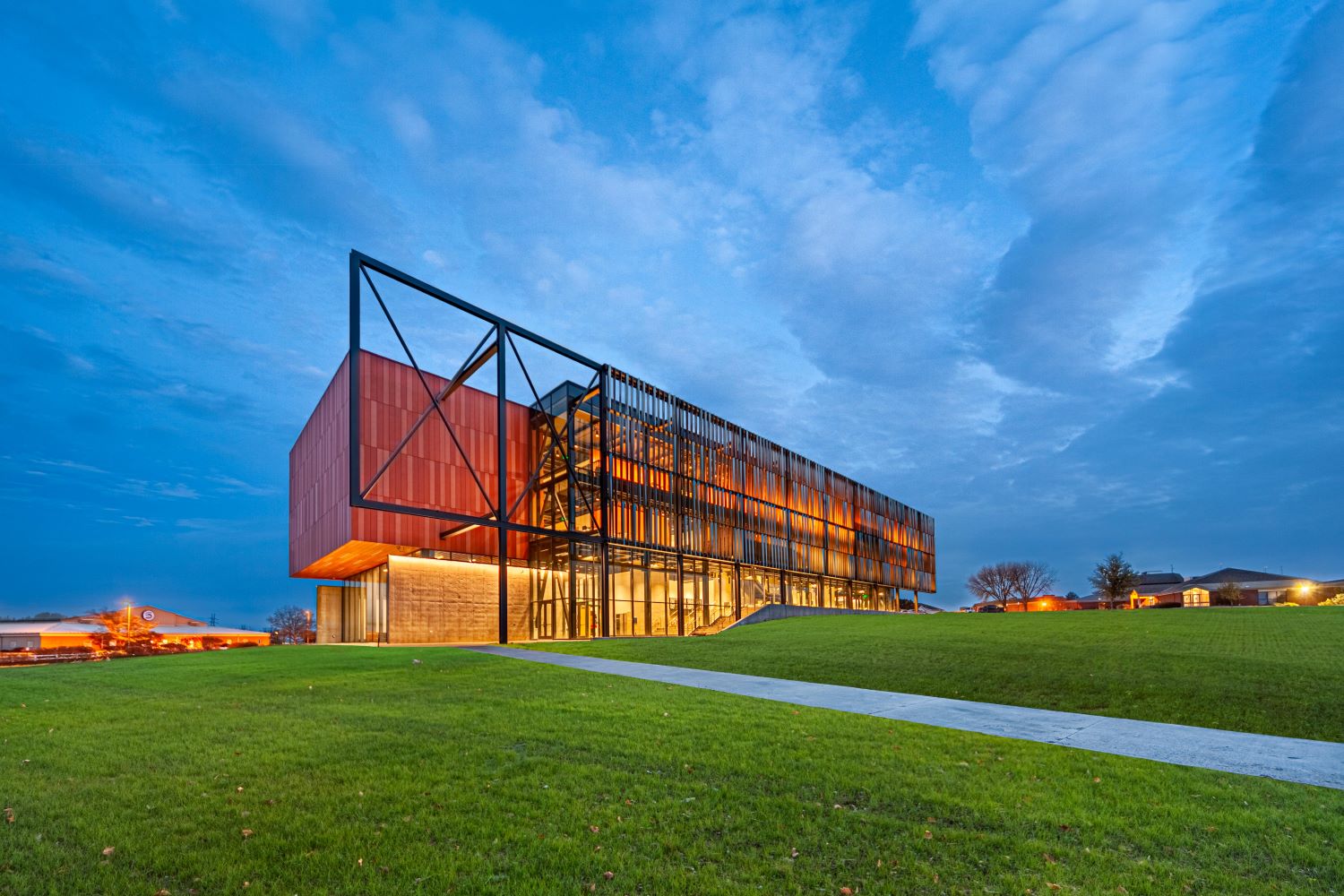 One building on Southeast Community College's Beatrice Campus not only stands out in Beatrice, but to the architectural world as well. The Academic Excellence Center, which opened in 2021, has received numerous accolades, including one prestigious award for its unique architectural style.
The award is from The Chicago Athenaeum: Museum of Architecture and Design, which recently announced the overall winners of the 2022 American Architecture Awards. The facility was one of 12 named in the Schools/Universities category and among 150 projects chosen by Italian architects and recognized for being the best new architecture designed and constructed by American architects and by international architects with offices in the United States.
Winners were selected from a short list of more than 400 projects. In addition, the building has received many other awards ranging from Outstanding Project Award to Excellence in Architecture Award to Interior Design Excellence.
"These types of awards are in alignment with the College's vision to create dedicated destinations and the highest quality learning climates through permanent, innovative, modern, virtually linked, sustainable, and collaborative facilities and green spaces," said SCC President Dr. Paul Illich. "These awards also validate the College's commitment to its core values of excellence, integrity, innovation, inclusion, and stewardship and accountability."
The 52,000 square-foot building includes classrooms, health and science labs, and a multi-functional room that can * be used for many purposes. The $19 million facility was designed by BVH Architecture and Gould Evans (now Multistudio) and constructed by Hausman Construction.
The Academic Excellence Center also was featured in the September/October issue of Nebraska Life magazine in a story by Tom Hess.
Awards received in 2022:
* The Chicago Athenaeum Museum of Architecture and Design, American Architecture Award (international design award)
* SCUP Excellence Awards, Honorable Mention (national design award)
* Learning by Design - Educational Facilities Design Awards, Outstanding Project Award (national design award)
* AIA Central States, Honorable Mention, Excellence in Architecture (regional design award)
* AIA Nebraska, Honor Award, Excellence in Architecture (regional design award)
* AIA Nebraska, Honor Award, Architectural Detail (regional design award)
* AIA Kansas City, Merit Award, Excellence in Architecture (regional design award)
* AIA Kansas City, Professional's Choice Award (regional design award)
* AIA Kansas, Honorable Mention, Excellence in Architecture (regional design award)
* IIDA Great Plains Chapter, Interior Design Excellence Award (regional design award)
Click here to see the full list of 2022 American Architecture Awards: https://globaldesignnews.com/the-chicago-athenaeum-announces-the-2022-american-architecture-awards/