2021 Milford Distinguished Alumni
August 08, 2022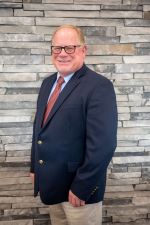 Growing up in Merna, Nebraska, Tom Downey was the oldest member of his family. Since he wasn't quite sure what he wanted to do after high school, he figured attending Southeast Community College and studying Manufacturing Engineering Technology was a good fit for his interests and his budget.
"My parents did not have any post-secondary education, and being the oldest in my family, I pretty much had to navigate my college and study options on my own," he recalled.
During his time at SCC, he stayed busy by working and as a residential hall floor manager for four quarters. He has fond memories of his time in Milford and continues to keep in touch with many of his classmates.
"The friendships made during my time with classmates, staff and other students certainly come to mind," he reflected. "Some of these relationships continue today, some 40 years later."
Even though he didn't follow a career path in his field of study, he said his education at SCC gave him the tools he uses today.
"SCC prepared me very well for my career," he said. "The structure of class during the day, along with my jobs during college, helped me to manage time and be organized. The math, engineering, machine shop, and practically all my experiences at SCC I continue to use today in my company and career."
Downey graduated in 1980 from the Manufacturing Engineering Technology program. Fast forward 41 years later and he is running a successful business. Downey is the president and chief executive officer of Downey Drilling Inc., with branches in Lexington and Kearney, Nebraska, and Garden City, Kansas. His firm employs more than 60 people and operates as a full-service water well drilling and pump installation contracting company.
"In receiving the Distinguished Alumni Award, I am honored and humbled to be included with such talented, successful past recipients," Downey said. "I am proud to say that my success can be attributed, in part, to the time I spent at SCC furthering my education."
Downey advises current students to consider careers in the construction and trade industries, since there is currently a great need for those workers. He also said to never stop learning, and to find an occupation that doesn't seem like a job.
"Find a career that you really enjoy, that doesn't seem like 'work' and strive to get a little bit better every day," he said. "We are put on this earth to serve others. Our time is short. Make the best of it!"
When he's not "working," Downey enjoys watching stock car racing and NASCAR and spending time with his wife and grandchildren.