2021 Distinguished Alumni Award
October 04, 2021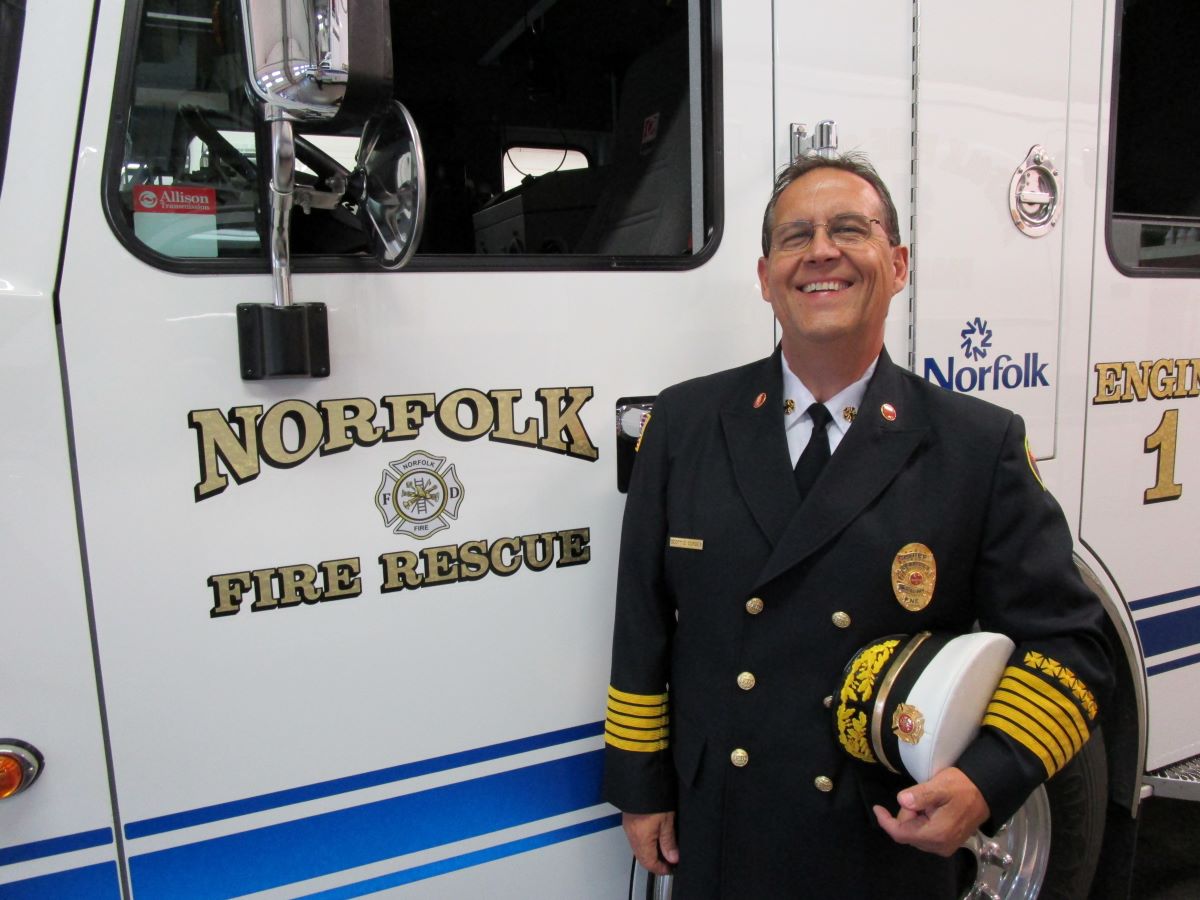 Scott Cordes graduated from the Fire Protection Technology program at Southeast Community College in 1986. Since then he spent many years as a firefighter and continues to build his resume. He is now Norfolk's Public Safety Director/Assistant City Administrator. Because of his many accomplishments, he was selected as the NCCA's 2021 Distinguished Alumni Award recipient from SCC.
"I cannot imagine where my life would have gone had I not connected with Southeast Community College as a young man way back when I did," Cordes said. "It certainly changed my life and sent me on an incredibly rewarding path that continues today."
Cordes, 59, became a firefighter because his grandfather, uncles, cousins, and brothers all served as volunteer firefighters in his hometown of Scribner. His father also was the fire chief.
"I grew up in a family that was deeply entrenched in the fire service," Cordes said. "I spent so much time in and around it. It just seemed like a really cool way to make a living."
Cordes began his career at the Nebraska State Fire Marshal's office in Scribner as a fire investigator and inspector. He became the Norfolk Fire Marshal in 1996, and then was promoted to Assistant Chief in charge of the Prevention Bureau, which included supervision of all code enforcement for the city. He was promoted to Norfolk Fire Chief in 2011. He said his career has been extremely rewarding over the years.
"The absolute satisfaction that comes from helping someone in their time of need and making that outcome better whenever possible warms the heart," he said.
However, he points out it's not all shiny fire trucks saving the day. There are many difficult days in the lives of a firefighter and a paramedic. He said leading the Norfolk Fire Department during the heart of the pandemic was one of the most challenging aspects of his career. It takes a toll both professionally and personally, he said.
"The mental health aspect has to be the highest of priorities," he said. "You have to take care of the people that are taking care of the people. There is death and human suffering. Those things tend to stay with you forever when you would prefer to forget."
Cordes returned to school and earned his Bachelor of Science degree in Business from Bellevue University. He also recently finished his master's degree in Leadership and Executive Coaching, also from Bellevue University.
"My decision to further my education after SCC was to strengthen my role as the administrator of my department and prepare for future endeavors," he said
Cordes said he tends to work hard and play hard and enjoys life every way he can. He and his wife Lora have been married 37 years and have four children and six grandchildren.